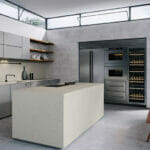 From the pictures on the walls to the choice of furniture, your interior design reflects your personality, showing who you are and what you like. You'll take great care in choosing a couch and end tables for your living room and a bed for your bedroom, but what about your kitchen?
Whether you're making a quick snack, preparing a gourmet meal, or doing dishes, you are bound to spend hours each day in the kitchen. Since you're spending so much time there, shouldn't it be as warm and inviting as the meals you prepare? You express yourself in the meals you make, and you should express yourself in your kitchen design as well.
When creating your own kitchen design there are a number of considerations, ranging from the most efficient kitchen design to incorporating the latest trends. In the end, though, it's all about expressing yourself in one of the most popular rooms in your home. Your ideal home should have the ideal kitchen. Here are some tips on how to design a kitchen of your dreams.
I See White Cabinets and I Want Them Painted Black (or Navy)
White has been the color of both modern and minimalist design. Problems, however, can occur with paint staining as well as with the contrast of white on white. Subtle differences in shades can clash, and blending can be difficult. This is perhaps why people are moving more toward black—and especially matte black. While white invites brightness, black gives the feeling of depth. Matte black also helps reduce the appearance of dirt, which can show up more clearly on shiny surfaces.
As Dana Sandberg, director of business development for construction management and contracting firm Best & Company, says, "White kitchens are always de rigeur, especially in modernist homes, but we are seeing many clients opt for black now too. We recently even did a kitchen that was navy, which looked great."
Navy, grays, hunter green and other dark colors can have the same effect as black while simultaneously providing color. Using two tones can also create contrasts that keep the eye interested. Contrasting island cabinets and kitchen cabinets can also create interesting contrasts.
Let's Get Down to Brass Taps
Brass hardware continues to dominate. From kitchen handles to taps, small appliances, and plug sockets, brass is a popular kitchen design consideration, especially brushed brass. Along with matte black, the trend here is away from shiny surfaces. Brass is bold on white, and really pops on dark colors like navy and hunter green.
Brass handles are also a natural choice for wood cabinets. Which means the brass trend fits in well with the return of wood cabinets. Today's wood, however, is more rustic and has simpler designs. This trend, in turn, works wonderfully with the brushed brass trend. Wood can also look nice as part of the trend toward more open cabinets and glass-fronted storage. The combination of all three can look truly stunning.
Countertops Meet Backsplash, Backsplash Meet Countertops
While granite and marble are beautiful, consider the expense of the new countertop and of the continued upkeep. Quartz can look just as beautiful as marble, but is much more durable and costs less.
One of the most popular kitchen countertop design trends is to make the backsplash the same material as the countertops. This can help create more unity of design in the kitchen as a whole, with the countertop appearing to rise a short distance up the wall. Because Caesarstone quartz is flexible, it makes for an ideal backsplash and other wall applications.
Don't Be Shy, Get Help When Wondering How to Design a Kitchen
Your kitchen is a reflection of who you are. However, you may not think you're up to the task of creating the kitchen of your dreams. Caesarstone wants to provide you with advice that can make your kitchen renovation better match who you are, even if you are not a professional interior designer.
We hope these helpful tips will stimulate some wonderful ideas and turn you into an expert in kitchen design so you can create your very own dream kitchen.