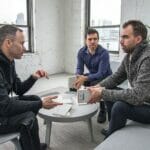 "Caesarstone is a product that is designed both visually and scientifically and it's used widely by designers and architects."
– Ben Porto, partner
Snarkitecture
"Excellent samples, great size too, and helped us choose the one we will be purchasing for our kitchen remodel!"
– Grace Jehan
Caesarstone customer
"Great food and a great visual experience go hand in hand… Caesarstone creates an environment that people gravitate to. They want to put their hand on it and touch it."
– Eli Parker, CEO
Fess Parker Winery & Vineyard
Caesarstone pioneered the first quartz countertops over 30 years ago and continues to enrich the residences, restaurants and businesses across the globe. Over three decades, many of the most world-renowned designers and architects, beloved hospitality establishments, trusted custom builders, influential bloggers, and stylish homeowners looking to elevate a space to a functional and beautiful state have chosen Caesarstone to cover their surfaces.
"I've been dreaming of putting in a Caesarstone countertop for years and now that it's installed, I can't imagine anything else. It's taken a simple space and elevated it to a truly functional and beautiful state. It's relieving to know that I have something that will last and remain gorgeous for years to come."
– Brittany Jepsen, blogger
House That Lars Built
Not only can you find Caesarstone in residences and commercial projects around the world, but the quartz material has also been utilized in high-end design installations showcased at Milan Design Week by Snarkitecture (2018), Tom Dixon (2016), Jaime Hayón (2017), Philippe Malouin (2015).
"By cutting [Caesarstone] with the high-tech technology they've got, you get an amazing result like 21st-century marquetry, which is actually something you don't see so often."
– Jaime Hayon, designer and collaborator
Caesarstone Milan Design Week 2017 Installation
If you're looking for a reason to trust Caesarstone with your surface needs, visit the Testimonials page to explore Caesarstone reviews and success stories.
"The product sample was large and very representative of a larger slab of the product. The shipping experience was very exceptional – 2-day delivery – earlier than expected. Great experience."
– Paula
Caesarstone customer
View our Collections page to browse the beautifully crafted surface designs and visit our FAQ page to learn.