Selecting a porcelain countertop is more than just picking out a color, texture, and pattern.
Edge selection is a pivotal consideration when selecting your surfaces because it can greatly impact the overall look and feel of a space. Therefore, it's crucial to choose an edge that compliments the overall design and functionality of the countertop.
Take the "edge" off choosing porcelain countertop edges by reviewing the various types of edge options that are available.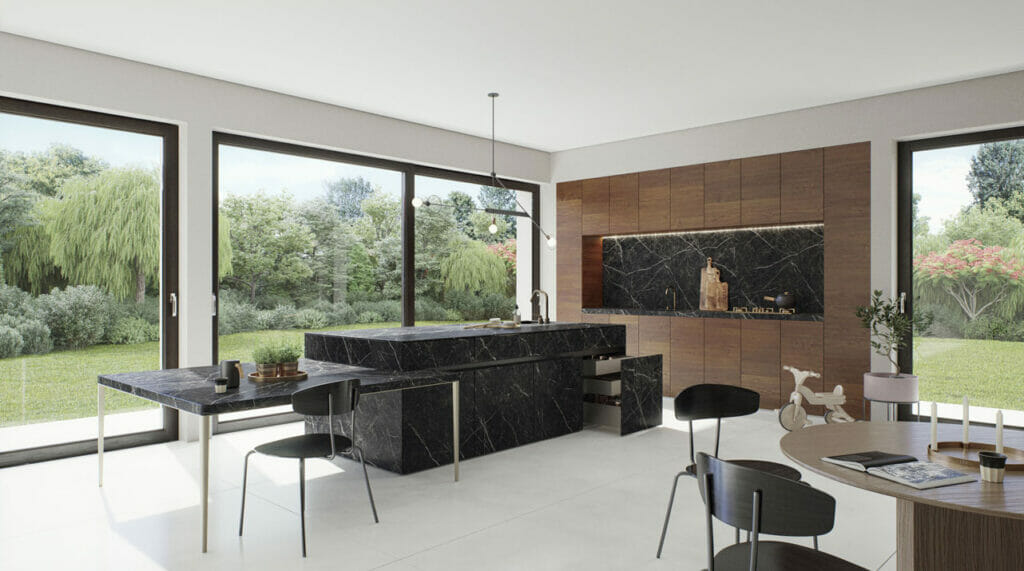 How to choose the right edge for a porcelain countertop
First, not all edges are compatible with all types of porcelain countertops. Knowing this can be a huge time saver because it narrows down the potential options.
To start, homeowners should think about the overall theme and needs of the room they are updating. This will help narrow down which edges are compatible. For example, certain porcelain countertop edges can maximize surface area, which is crucial for increasing the amount of usable countertop space, making it an optimal choice for chefs or home cooks.
But, homeowners shouldn't forget about safety, especially when there are children or pets running around. Rounded edges can be incredibly beneficial for homeowners who want to maintain a safe space.
Lastly, homeowners should take the cost into consideration. The type of edge that a homeowner chooses will heavily impact the overall cost. This factor is important to keep in mind when creating a budget.
9 edge options for porcelain countertops
Here are nine of the most popular edge options for porcelain counters in residential and commercial spaces:
Straight edge
Straight edges are one of the most popular types of edge options for porcelain countertops. With a flat but slightly curved design, it's the perfect choice for modern and contemporary countertops. Straight edges draw attention away from the edge itself and help highlight other aspects of the countertop.
Plus, thanks to its shape, this type of countertop edge is easy to clean. What's more, straight porcelain countertop edges can be cut to an exact specification for a customized look.
The one downfall of straight edges is that they tend to chip easier than others, especially when bumped by a heavy object. That being said, porcelain is an incredibly durable material, so it's unlikely that the countertops will become chipped.
Aris edge
A true classic, the aris edge is formed by the connection of two porcelain surfaces, resulting in a sleek and sophisticated appearance. Additionally, this edge can be sanded down and dulled for safety purposes.
The aris edge is a practical choice for those seeking a timeless aesthetic, making it a great option for homeowners or business owners that want to reinvigorate a space with classic design choices that will stand the test of time.
One of the biggest pros of this edge is that it has a dull profile, making it safer for people, pets, and furniture.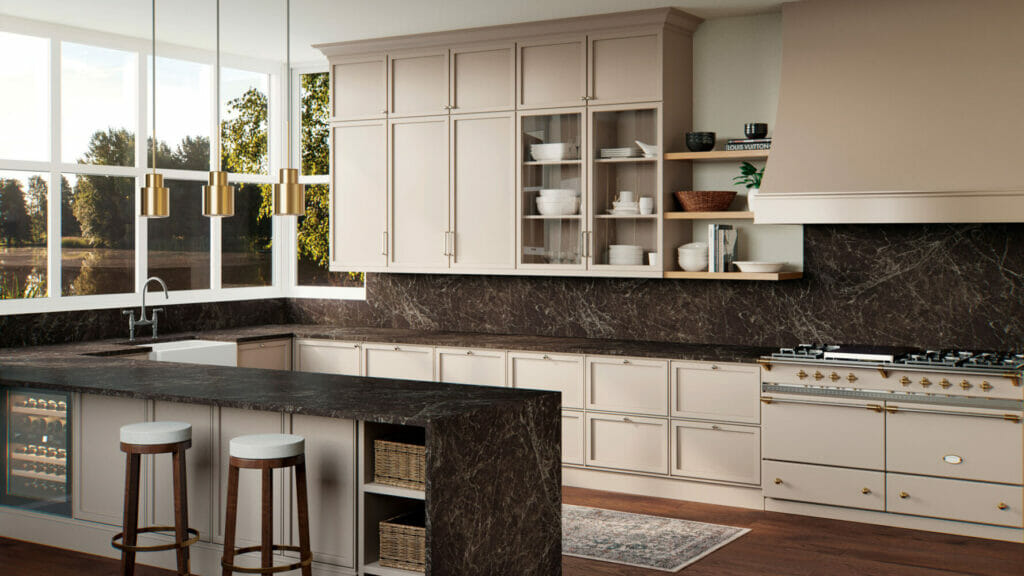 Mitered edge
Seamless is the best word to describe a mitered edge porcelain countertop. Typically, this edge profile works well with a countertop that extends into a waterfall, due to the fact that it gives the surface a sleek and modern aesthetic.
However, achieving this look requires a professional skill set because it must be cut at a 45-degree angle and mounted accurately.
Beveled edge
The beveled edge is a popular choice for its subtle cut and added dimension. Plus, it can be customized for different countertop shapes and angles, making it a versatile choice that matches countless designs. 
However, this type of edge can be a bit more difficult to clean than other styles because it can trap crumbs and debris. To keep this edge profile clean, homeowners should use a small brush or handheld vacuum cleaner.
Eased edge
Looking for stylish and safe porcelain countertop edges? Look no further than eased countertop edges. This unique edge profile features rounded square edges, giving countertops a soft and subtle look.
This edge is ideal for households with young children because it has a safe, smooth exterior. Plus, this edge pairs well with many different types of surfaces: whether quartz or porcelain, the eased edge will complement any surface.
Bullnose edge
Prioritizing looks and decor is easy when installing a rounded bullnose edge.
Homeowners can often find this edge profile in traditional and modern design schemes, as it can add warmth to any countertop.
Demi-bullnose edge
The demi-bullnose edge is similar to the bullnose edge but features a smaller, more subtle curve. These porcelain countertop edges offer a softer look than the straight edge, while still maintaining a modern aesthetic.
The demi-bullnose edge works well in a variety of design styles, from contemporary to traditional. It adds a touch of elegance and sophistication while still remaining functional.
Ogee edge
An ogee edge is a luxurious option, featuring an s-shaped curve that adds a dramatic and opulent touch to the countertop. The ogee edge is often used in traditional and formal design schemes.
This edge type is highly decorative and adds an extra level of excellence to a space. However, like some of the other more intricate profiles, the ogee edge can also be more difficult to clean.
Waterfall edge
The waterfall edge boasts a smooth and contemporary aesthetic that extends a countertop past the 90-degree angle, providing a sleek appearance for porcelain countertop edges.
It is an increasingly popular style and for good reason. The edge can be extended in length, which creates a nice flow and cohesive design, especially when connected to other countertops.
Other than a slightly higher price range due to the increase in materials used, there aren't any downsides.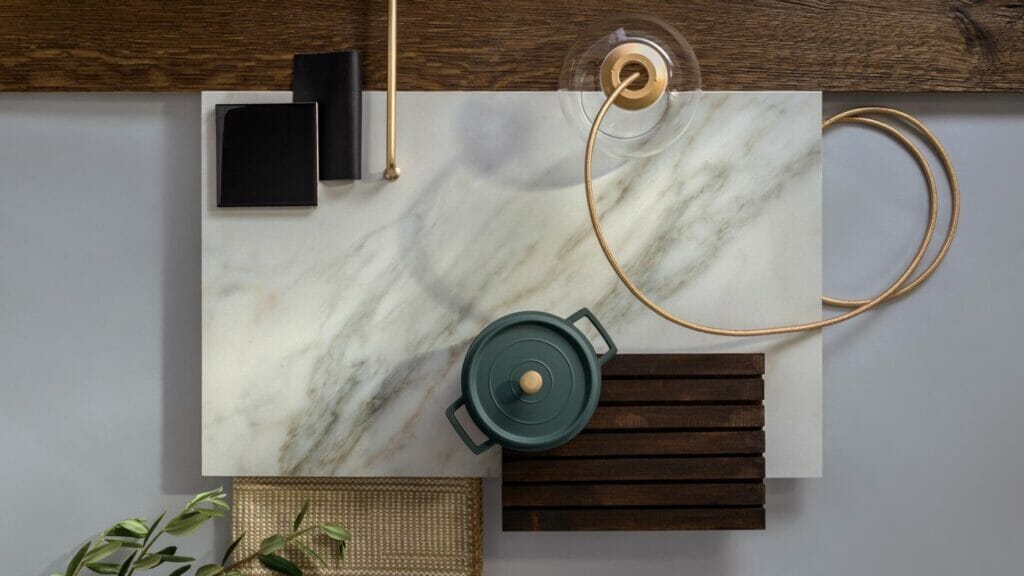 Guide to porcelain countertop edge types — Conclusion
In conclusion, choosing an edge profile for a countertop requires a lot of consideration — there are cost, design, and safety factors.
But, luckily, once an option has been selected, the porcelain tile countertop edging is bound to look great in a home or office.

Now, it's time to head over to Caesarstone's Virtual Kitchen Visualizer to see how different edges play into room designs. Then, visit Caesarstone's Where to Buy page to find the nearest stores to make a countertop purchase.