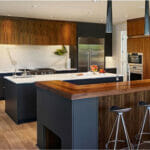 2015 marks the 40th anniversary of the NW Natural Street of Dreams and we're honored for Caesarstone to be utilized in this prestigious project once again.
Nine luxury homes were built at The Highlands in Lake Oswego, Oregon this year, integrating northwest regional and modern styles.
Garrison Hullinger Interior Design chose Caesarstone surfaces not only for the gorgeous kitchen of the Sandhill Crane home, but also both children's en suites.
"The homeowners where very involved in the process of space planning and material selection for the home," explains Hullinger.
The large modern kitchen features a combination walnut and laminate cabinets, topped with 4600 Organic White countertops.
The boy's and girl's bathrooms are similar, yet unique to the children who will enjoy them. Both made special with different pops of tile color and 4141 Misty Carrera countertops.
The best part is – you can visit the homes and see the incredible architecture and designs for yourself. The homes are open August 1 – August 30 – get more information here.