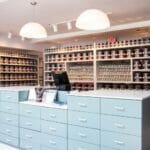 Farrow & Ball is a prestigious British manufacturer of paints and wallpapers. The firm has become world-renowned for products based upon historic color palettes with memorable names such as Elephant's Breath, Arsenic, and Dead Salmon. And when they decided to create a unique showroom experience for their Los Angeles location, Farrow & Ball chose Caesarstone countertops, finding them to be the perfect fit.
Farrow & Ball prides itself on paint and wallpaper with deep and richly pigmented colors that respond to changing light throughout the day. This distinctive quality delivers a unique depth of color and vibrancy that brings walls to life. Farrow and Ball's handcrafted wallpaper is created using their own paints and traditional block and trough printing methods in over 300 designs, from bold geometrics to delicate florals.
Why is Caesarstone the Ideal Surface for Farrow & Ball?
Farrow & Ball has had a footprint in Los Angeles for over ten years but recently had the opportunity to move their Melrose Avenue location to La Cienega Boulevard. And when they were choosing surface materials, they immediately thought of Caesarstone. As Molly McDermott Walsh, Innovative VP of Marketing for Farrow & Ball, says, "When we were working on this LA project to create a new showroom experience for Farrow & Ball, we wanted to create a showroom experience that was really versatile. That was when we called Caesarstone. We were really excited to work with Caesarstone on this project because we've admired them for many years and we really respect them for pushing design boundaries and doing interesting activations."
Farrow & Ball wanted a neutral surface that would complement their bold colors, but one that was practical as well. Caesarstone delivered. Walsh says, "We were able to work with them to create a surface material that would be absent of most colors, but still a beautiful surface that could also withstand a designer working, a consumer working, or even a dinner or cocktail party here and there. Working with Caesarstone was a dream. Since we are a well-known brand and they're a well-known brand, it was really two leaders coming together and talking about a really new, innovative retail experience and showroom experience."
What Colors Did Farrow & Ball Choose and Why?
For their LA showroom, Farrow & Ball opted to go with two Caesarstone colors, Frozen Terra and Intense White. Frozen Terra™ 4601 is a classic, neutral-colored white base embellished by glimmers of black basalt and translucent grey quartz, fusing the playfulness of terrazzo with the robustness of concrete translating a sophisticated, worldly vibe. Complementing a variety of surfaces, including concrete, Intense White™ 6011 is Caesarstone's "whitest white," an exciting addition to their Standard Range collection, bringing fresh optimism and brightness to interiors.
With its proactive approach to producing over 40 innovative colors and textures, Caesarstone prides itself on providing a premium quartz surface with remarkable style and endurance. As Walsh puts it, "Caesarstone helped us meet our design goals with this space, being able to provide materials that were durable, that were beautiful, that were cutting-edge, and helped us create our design vision."
Get Samples of Frozen Terra and Intense White at Caesarstoneus.com.