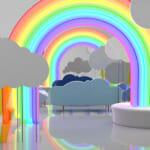 Our latest designer collaboration is truly a dream partnership. We're thrilled to be working with celebrated potter, designer and author Jonathan Adler. Our dreamy collaboration will debut at Canada's largest design exposition, the Interior Design Show 2020 (IDS20) from January 16 to 19 at the Metro Toronto Convention Centre. It's a deeply engaging and highly Instagrammable installation that transports you into a vibrant fantasy world called Dreamland.
Jonathan Adler's "Dreamland"
Design Forward
Going into its seventh year, Caesarstone's Designer Program challenges the status quo of the expected uses for our products and celebrates innovation through partnerships with renowned interdisciplinary designers from around the world, who each offer their forward-thinking perspective on this versatile material. Previous collaborations have included Marije Vogelzang, Snarkitecture, Jaime Hayon, Tom Dixon and more, and we're excited to add Jonathan Adler to this esteemed group.
Jonathan Adler
Potter, designer and author Jonathan Adler launched his namesake brand after leaving his day job to pursue his first love: pottery. In 1993, Barneys bought his collection of pots, and five years later, he opened his first store in Soho. Jonathan's desire to design all of the pieces one needs to create a flawlessly chic home led to more and more. Today, Jonathan Adler is a design company with retail locations worldwide, a thriving e-commerce site, a full slate of residential and commercial projects, and a wholesale business boasting over 1,000 locations globally. They strive to create luxe and livable interiors that are seriously designed, but don't take themselves too seriously.
Fabulous Fantasy
Adler describes working with Caesarstone's premium products and talented team as 'fab' and the feeling is mutual. As he says, what could be better than using dreamy materials to create a dreamy environment? We certainly can't think of anything better than that.
From dream to reality
The Caesarstone x Jonathan Adler Dreamland installation at IDS20 will transform Caesarstone surfaces into a surreal and ethereal, free-floating fantasy. Visitors will walk through a heavenly cloudscape that showcases the versatility of quartz through a variety of colors and textures. Adler challenged himself to design a soft environment using Caesarstone, a material more often associated with straight lines and sharp angles. Lending an airy, dreamlike quality to the space, the exhibit will feature clouds, faces, ostrich feathers, and a giant rainbow arch, in addition to neoclassical columns inspired by Caesarstone's headquarters in the old Roman port city of Caesarea.
Jonathan Adler's "Dreamland"
Redraw the boundaries
This year's collaboration represents Adler's impeccable commitment to craftsmanship and luxury that we're excited to bring to life with his creative and unique take on Caesarstone. Inspirational and imaginative, Dreamland pushes the use of our product into all aspects of the home, encouraging homeowners to discover all that's possible when you dream in color.
Follow your dreams
For more dreamy visuals and designer inspiration, be sure to follow @jonathanadler and @caesarstoneus to add color to your feed.