Countertops are the first thing that gets noticed in a kitchen. These aren't just slabs of stones but the bedrock of your kitchen decor. Thus, it is essential to put in some extra care to keep them shining. Quartz countertops prove to be a perfect fit both aesthetically and functionally, and are responsible for the downward trend of wood and stone countertops. Furthermore, quartz countertops require minimal maintenance.
Homeowners are naturally worried about their countertop's luster over time. This article talks in-depth about quartz countertop cleaners and polish and how you can prevent your countertop from losing its shine.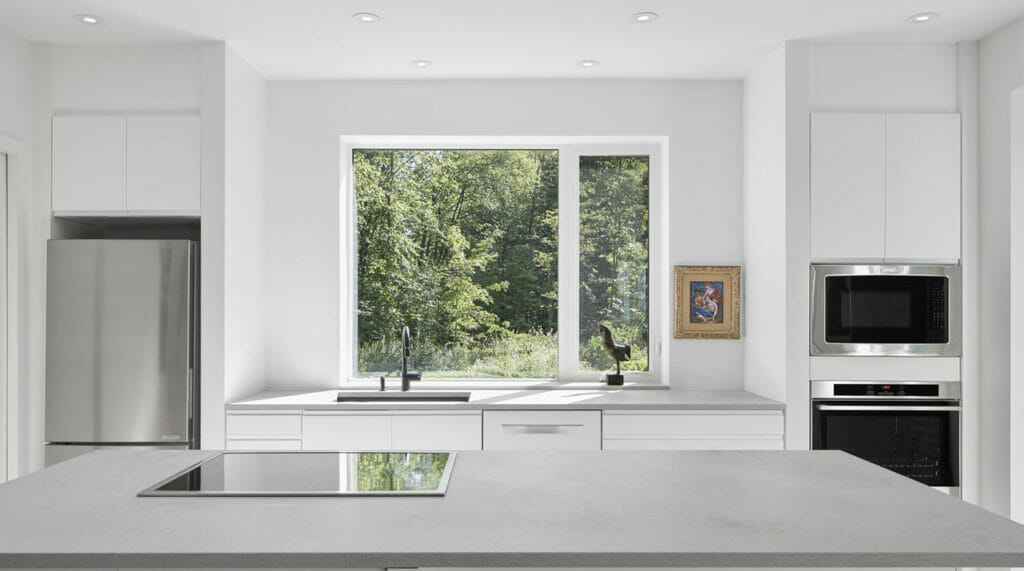 What is a Polished Quartz Countertop?
The word "polished" means much more when it comes to countertops. Quartz countertops come in three finishes:
Natural finish:
Quartz countertops with this finish possess a natural beauty and texture, gently reflecting light.
2. Polished finish:
Polished finishes elegantly reflect light, appearing brilliant and radiant. Surfaces with this finish also require minimal care.
3. Honed finish:
Honed finishes are matte and soft to the touch. They reflect light softly and exude depth in their texture.
4. Concrete finish:
Concrete finishes are granular to the touch, evoking their namesake material yet still exhibiting a level of refinement.
5. Rough finish:
Lastly, we have the rough finish, which highlight's quartz's natural rugged beauty.
Note: Honed, Concrete, and Rough finishes require a bit more maintenance than the other two finishes. Since there's more exposed stone, fingerprints and metal marks will be more evident. Thankfully, you can easily get your countertops looking like new again with non-abrasive cleaning products like Soft Scrub Liquid Gel.
Quartz Countertop Polish: Is it essential? 
Although pre-polished quartz countertops do not need to be repolished, they do need to be cleaned regularly. Over the years, thin films of dust accumulate on the surface, making it lose its luster over time. Quartz countertops only require physical cleaning to keep them fresh and free from stains.
How you maintain your countertop also plays a huge role in determining its condition in the long run. Use trivets to protect it from high temperatures. Use chopping boards instead of cutting vegetables directly on the countertop. Keep abrasive cleaners away. These small routine steps can go a long way in the upkeep of the luster of your kitchen countertop.
What should you not use on quartz?
There are certain things to bear in mind while cleaning your quartz countertop. You must avoid the following while cleaning your polished quartz countertop: 
The use of strong chemicals, such as those found in cleaning supplies, can result in discoloration of the quartz countertop polish.
Try to avoid substances with a high pH value, such as ammonia. These chemicals can eat into the finish of the countertop material.
Never go for lime-based products and acidic cleaner or chemicals such as hydrofluoric acid.
Avoid using acetone and bleach on your polished quartz countertop. 
It's best to avoid harsh scrubbers or cleaners as they can lead to dullness and can cause permanent damage to the natural quartz shine. 
Many quartz countertop cleaners and polish manufacturers advertise their product as the best one to enhance the luster and color of a quartz surface. However, there is little truth in such claims. Some of these products even contain chemicals you shouldn't bring near your countertop. Most spills on your countertop can be cleaned with mild soap and water.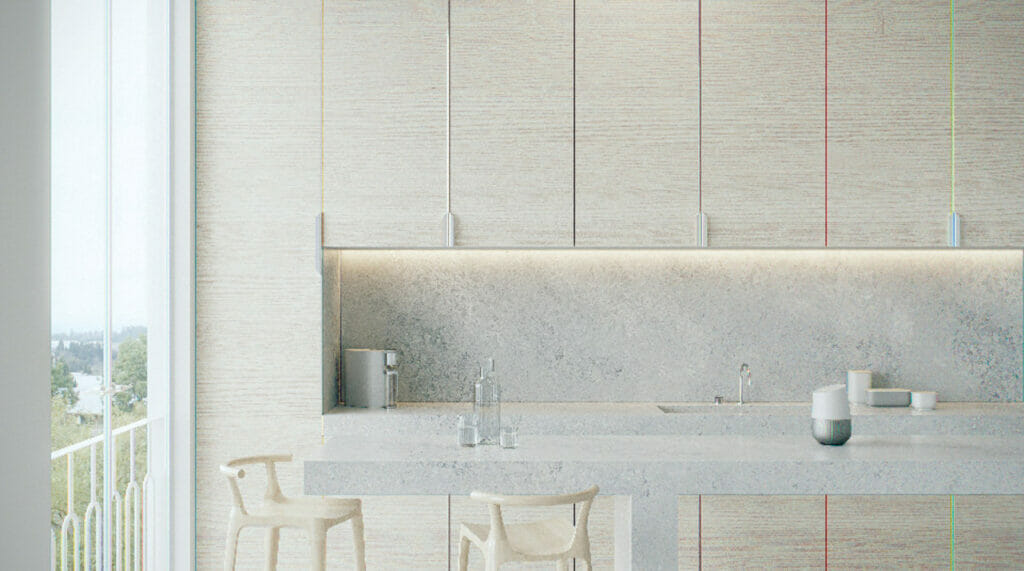 How do you keep quartz countertops shiny?
Quartz is a robust, non-porous material that does not absorb liquid so any accidental spillage or stains can easily be wiped off the surface. Follow these steps for easy regular cleaning of your countertop.
Put a few drops of all-purpose, non-abrasive cleaner on a cotton cloth. Chemicals like peroxide or bleach can scratch the finish. 
Use the damp cloth to wipe the countertop area. Cover the entire surface of your countertop with this solution.
Once you have entirely coated the surface, scrub the stained portion. Use a soft scrubber for this.
Once you are satisfied with the scrubbing, wash the soap from the surface and let it dry. You can also use a dry hand towel to expedite the countertop drying process.
Replacing your countertop
With time, even the best of things wear off, and countertops are no different. It is possible, due to improper maintenance or otherwise, that your quartz countertop doesn't shine the way it once did or it's lost some of its color. While it might be possible to bring back the color, eventually a discolored or damaged quartz countertop will need to be replaced.
Caesarstone is the pioneer of quartz countertops. Visit one of our locations to experience our quartz surfaces.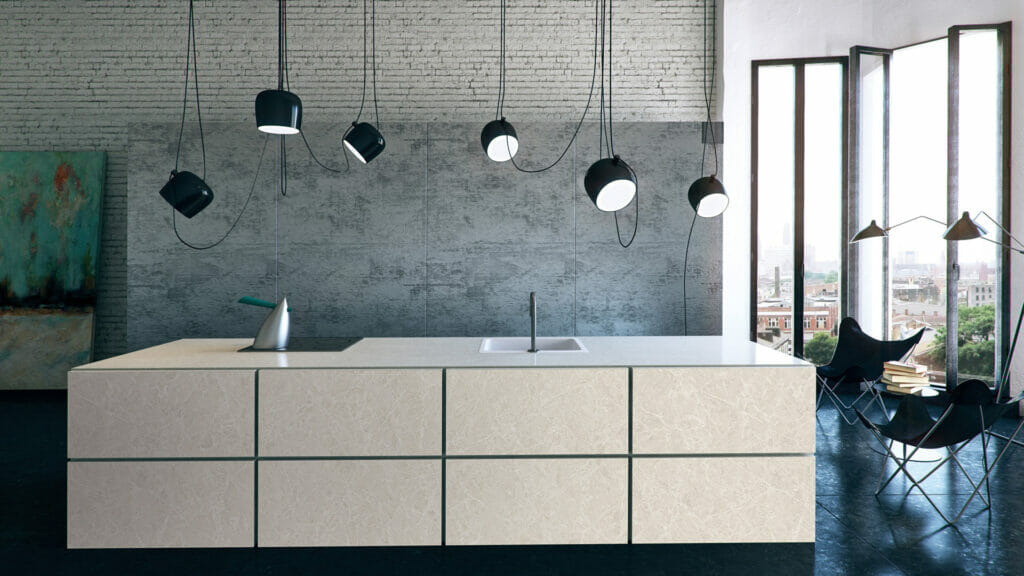 Frequently Asked Questions (FAQs)
Are quartz countertops available in different colors?
Variegated pigments and material combinations are used to impart different colors to quartz countertops. Quartz can be produced in any color you can imagine.
Why use quartz countertops?
Quartz countertops are scratch and stain-resistant which makes them long-lasting. It's nonporous, meaning it won't need to be sealed either. On top of its many functional benefits, it delivers a visual appeal to complement any room in your home.
Can quartz be used outdoors?
Thanks to Caesarstone's innovative Outdoor Collection, this specialty quartz can withstand extreme elements like humidity, snow or rain. Enjoy the brilliance of your quartz under the sun, with the same level of durability and superior quality.
Endnote
Scratch-resistant, naturally hard, highly durable, and stylish quartz countertops make the best countertop for your kitchen. They are easy to clean and maintain. As long as you keep up regular cleaning, they will retain their shiny properties for decades to come. The non-absorbent, lustrous surface does not need extensive cleaning or re-polishing.