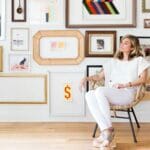 Claire Zinnecker, owner and lead designer of Claire Zinnecker Design, knows her way around the kitchen, as she's worked both commercial and residential projects, from ground up to remodels. With an eye for clean, crisp, affordable design, Zinnecker aims to tell a story in every space.
In this popular A+D podcast, Zinnecker shares insight into what you need to know before remodeling a kitchen or bathroom. She talks about materials that balance aesthetical appeal with function and the ability to withstand everyday wear and tear. Specifically, she discusses how Caesarstone quartz surfaces marry style, beauty and utility without overstretching the budget.
 "I have loved Caesarstone for years and have gotten familiar with it because I have it in my own kitchen, and I made my dining table with it. The beauty of it is, I have clients that love the idea of using a natural material – like marble – in their living spaces. But I drive people away from this because they are easily stained. Caesarstone has constantly wowed me because they have created a manufactured product that holds up to everything, is beautiful and resembles a natural material."
Zinnecker also praises the versatility of Caesarstone quartz and how she likes to try the material in new ways and in new locations like as a backsplash, in shower surrounds, and as wall cladding. "This project [Zilker Bungalow] was fun because I created an entire shower on all of the walls using Cloudburst Concrete. I really wanted to replicate the idea of a Santé Fe plaster but without the cost or wear and tear that a plaster would bring to a wet space."
Listen to this podcast for more about why designer Claire Zinnecker turns to Caesarstone whenever she is looking for a durable, industrious, elegant surface application.