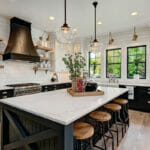 At Caesarstone, our passion for design extends well past creating beautiful and durable surfaces. We're also passionate about inspiring our customers and supporting them throughout their design journey. Whether choosing a countertop to match your kitchen or selecting a surface you love and letting it inspire the rest of the space, our tools and resources can guide you through the process.
Define Your Style
Using our new Personal Style Guide, you'll find new inspiration for your space and have a better idea of what you want when you speak with a designer. It can be a great starting point or something to refer back to as you select all the new elements of the room. Do you lean more towards Eclectic, incorporating elements from a wide range of influences, or Traditional, with rich and dramatic touches that blend effortlessly for a picture-perfect space?Farmhouse, Nordic, or Industrial, take the quiz to find the style that speaks to you the most. 
After completing the style quiz, take some time to explore our Style Stories, which were created to help you better imagine the space around your surface. With suggested color palettes, materials, and décor, these stories act as a mood board by bringing each element of the vision together and helping take the guess work out of achieving the look you want. To further spark your inspiration, explore the gallery of images that match your desired style.
Imagine the Space
While samples are great, seeing our surfaces in a space can help you envision how it will look in your kitchen or bathroom. For a look at Caesarstone quartz on a larger scale, peruse our Inspiration Gallery. Categorized by room, pattern, color, and design style, it gives you the opportunity to see these surface in a real-life setting.
For a more customizable experience, try our 3D Visualizer. Select the color of the flooring, cabinetry, and walls, and the layout of the room to see your design ideas come together. Appreciate how 5111 Statuario Nuvo gives a farmhouse kitchen a fresh look or how 5031 Statuario Maximus paired with light-hued cabinets are the perfect blend of traditional and modern in a transitional kitchen. Visualize your dream space and then bring it to life.
Get On Board
When putting together a plan for a new space, a Pinterest board can be incredibly helpful for collecting ideas and organizing your design thoughts. While you scroll in search of inspiration, visit our boards for our latest collections and the most popular trends. See our quartz in modern or eclectic kitchens or explore a less expected application like a floating staircase. Let our mood boards inform your design and spark your imagination.
Working Together
Virtual design tools can be extremely helpful when planning a room makeover, but one team has taken it a step further by designing an entire home virtually. Caesarstone is proud to have partnered with the Black Artists + Designers Guild in creating the Obsidian Virtual Concept House. Presented online, the 11,000 square foot virtual home was conceived by a group of 22 BADG members led by architect Nina Cooke John, whose work has been featured in The New York Times, and ELLE Décor A-List designer Leyden Lewis. The virtual home was designed for a multigenerational family living in 2025. The forward-thinking project features three of our colors; 5101 Empira Black, 405 Midday, and 4011 Cloudburst Concrete.
For a kitchen renovation on a budget, look no further than our recent collaboration with Camille Styles. Replacing the countertops and backsplash with 4011 Cloudburst Concrete, and bringing in new appliances and accessories, Styles created a brighter, more inviting space.
To Your Taste
Through the resources we've provided and perhaps the help of an interior designer, reimagining or creating a new space should be a rewarding and exciting project. Taking the time to investigate your personal sense of style and explore all the options is sure to set you up for a successful renovation. Learn more about our quartz surfaces by exploring our catalog, ordering samples or visiting one of our locations.