Countertop color selection is a pivotal decision for homeowners who are in the midst of designing their kitchen spaces. While most have a theme in mind, other factors such as functionality play a significant role.
One of the most common questions that homeowners ask is: Can I mix two countertop colors and achieve the desired results?
To answer this question, yes. Any homeowner can install two-tone kitchen countertops. After all, why choose one countertop color when you can have two?
Two-tone countertops are becoming increasingly popular in kitchen designs. However, countertop color combinations must be selected with precision.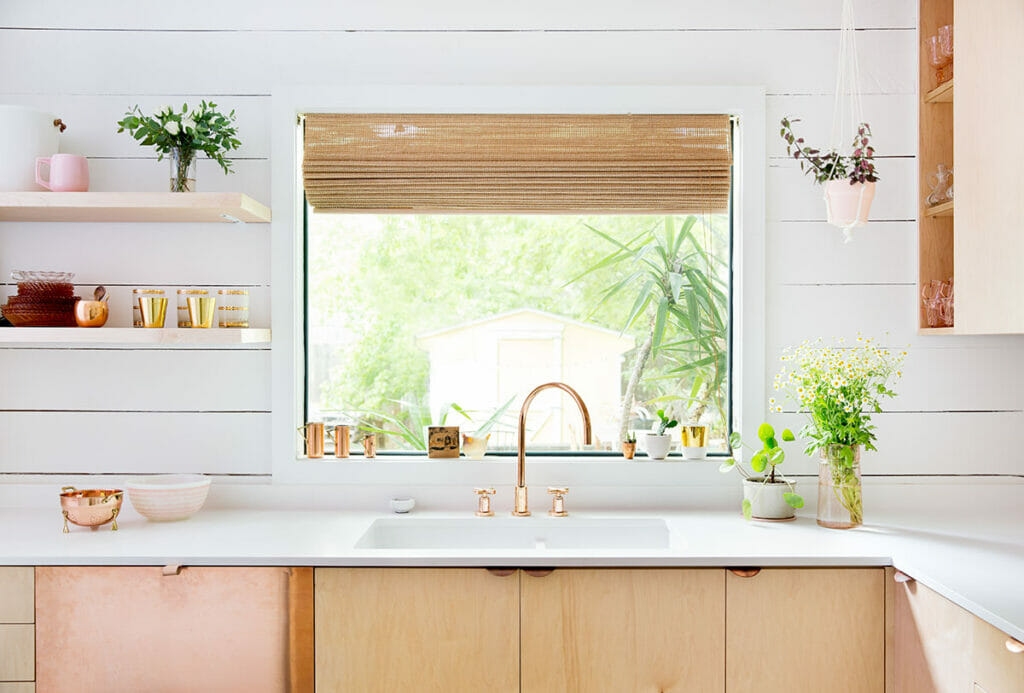 Why go for two different color kitchen countertops?
Two tone kitchen countertops incorporate two different colors. This can be two contrasting colors or two shades within one color group. Although two tone kitchen countertops are not a new trend, it is becoming an increasingly commonplace feature in modern kitchens. This is because this design creates a subtle, layered intrigue and enables homeowners to call attention to key elements in their kitchen space.
For instance, if a homeowner wants to highlight their bar area, using a striking countertop color is a sure way to catch the eye. Caesarstone offers a wide range of quality countertops, perfect for homeowners who are looking for a two-tone kitchen countertop design.
Here are 6 two-tone kitchen countertop design ideas.
Balance two bright countertop colors
A homeowner who wants a bright space can balance two bold countertop colors. However, one color should always be more neutral than the other. For instance, a combination of rich gold and emerald green is a great option for homeowners who are looking to achieve a regal feel in their kitchen.
Black and gold countertops
Black and gold are striking options for a kitchen with a two-tone countertop design. These colors – when combined – produce an opulent, yet dramatic effect. In fact, this pairing has a long-standing reputation not only in kitchen spaces but also in fashion design and home accessories.
5101 Empira Black pairs well with gold countertops in kitchens with white or cream-colored wall paint. This combination also allows homeowners to play around with other kitchen elements, such as their décor, artwork and accent pieces.
A black-on-black kitchen
Black is a timeless color in all facets. A black-on-black countertop color combination is a great option for homeowners who want to future-proof their kitchens. While other colors may go out of trend, the beauty of black countertops is here to stay.
With the variety of styles and finishes available on the market, black countertops such as Caesarstone's opulent 3100 Jet Black paired with the celestial 5810 Black Tempal create a balanced look in the kitchen. On the other hand, a combination of the mysterious 5820 Darcrest and charismatic 5100 Vanilla Noir creates an eye-catching, yet playful black-on-black two-tone countertop design.
Cream and white look
A fusion of cream and white yields a fresh two-toned look, especially for smaller kitchens where space is limited. For homeowners who want to go for this look, the trick is pair deeper shades of cream with a striking white such as 1141 Pure White. A bright white countertop creates a crisp contrast that underscores and elevates the hues of cream.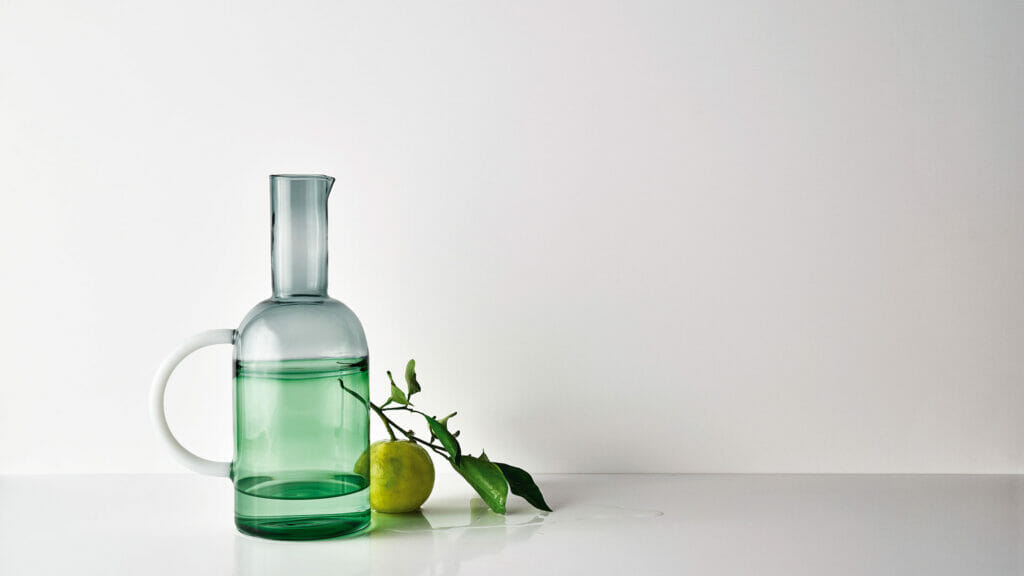 Different shades of white for two-toned kitchen
White is a classic shade that works with any other color — even other shades of white. Homeowners looking for a white-on-white two-tone kitchen countertop design can pair a solid white countertop, such as 1111 Vivid White, with a veined white countertop, such as 5111 Statuario Nuvo, to add some depth and character to the space.
Homeowners who are considering this approach should be careful as to not select colors that are too close in resemblance since the resulting contrast will be barely visible. In general, when it comes to the same color countertops, homeowners will want to play around with the contrast before making their final decision.
Black and grey countertops for an industrial look
A black-and-grey color combination is another great way to achieve contrast in large and well-lit kitchens. These colors are versatile and can pair with a wide variety of styles. For an industrial look, homeowners can opt for a concrete-inspired grey, such as 4043 Primordia.
Homeowners can also brighten up this laid-back look with unique light pendants, brightly-colored cabinets and colorful accents such as a rug, artwork or curtains. These décor pieces can complete this cool, full-bodied industrial look.
A kitchen with 2 different countertops: Tips
Do not be afraid to experiment with bright colors
Homeowners should not be afraid to experiment with distinct colors. Two distinctly colored kitchen countertops can add charm and appeal, as long as the colors are well-paired. If paired correctly, even the boldest color combinations can achieve a prize-worthy kitchen design.
Have accents that match with the color palettes
Kitchen accents can make or break the desired look of a space. Be aware of how the colors in the two-tone countertop design will pair with the chosen accents in the kitchen. A well-matched color palette can elevate the feel of the space and create a sense of harmony.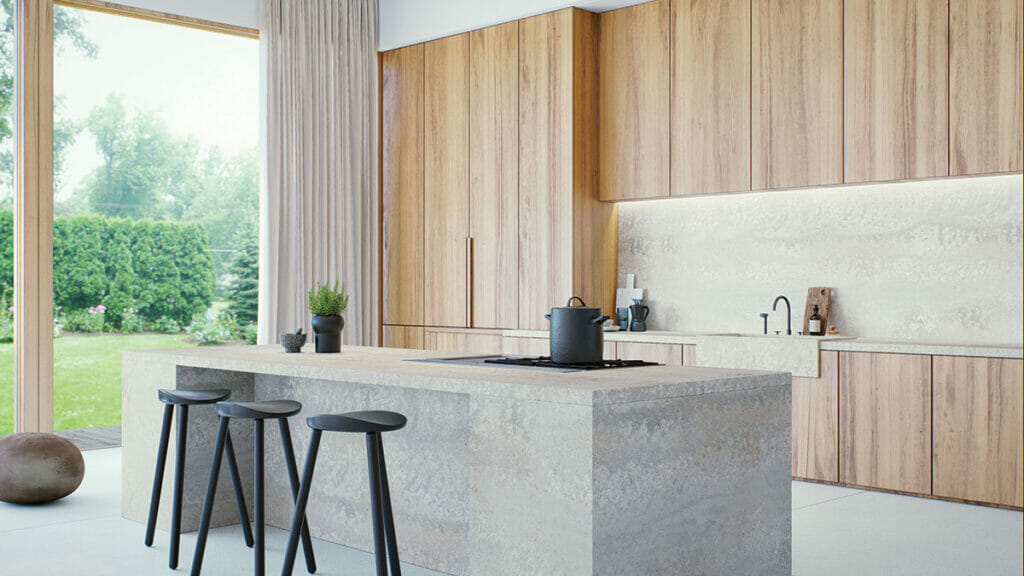 Do not ignore the kitchen flooring
The type, style and color of kitchen flooring plays a huge role when it comes to two-tone countertops. If the flooring is already installed, work around this color theme for the best kitchen design results.
Choose the preferred focal point
Countertop color placement is vital. It can also affect the general look of a space. When working with two contrasting colors, choose the focal point for the kitchen. For many, the kitchen island is the focal point of the space. Install a color that will contrast enough to allow the island to shine.
Go for matte countertops for a clean look
There is something about matte countertops that gives a space a fresh and clean look, regardless of the color. For instance, a matte black countertop paired with a matte white countertop is a classic combination in a two-toned kitchen.