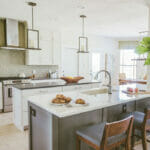 Caesarstone Takes Contemporary Décor to a New Level
The contemporary movement infiltrates our lives in many ways. From monochromatic color palettes and smooth surfaces to open floor plans and sophisticated spaces, we see the richness of contemporary design in luxury homes, retail boutiques, high-end restaurants and modern office spaces across the globe.
Contemporary style celebrates innovation and forward thinking through dynamic architecture and interiors that focus on showcasing spaces rather than accessories. Its sleek, clean lines soften at the edges, while its minimalistic approach breaks formal design rules and traditional norms.
Caesarstone blends function and splendor by delivering premier surface products that personalize your contemporary décor preferences. The following are some of the elements and characteristics that incorporate this design style into your home or business and how Caesarstone takes it to a new level.
Color
You'll typically see contemporary interiors feature monochromatic or tone-heavy color palettes of browns, grays, blacks, creams and whites. These neutrals are the base of most contemporary interiors allowing for personalization of warm touches and pops of vibrant color. Caesarstone's premier kitchen countertops come in a vast array of colors from salt-and-pepper motifs and neutral palettes to vivid color blends of other diverse possibilities.
Texture
You'll see a lot of natural fabrics in contemporary design due to their textural aspects. This appeal doesn't stop at furniture and accessories, though. The Motivo collection creates an embossed effect on your surface in patterns of Lace and Crocodile that are available in black or white colors. Blend in urban, exotic or traditional to complete your unique look. Motivo dares you to be different.
Architecture Details
Line and space are distinctive aspects of contemporary design. Structural elements are streamlined and often free of heavy ornamentation. Less is more. Edges are softened, surfaces are smooth. Much of the contemporary style's energy comes from line and form balanced with curved geometrics like orbs and waves. Caesarstone kitchen countertops have a wide range of edge profiles that compliment these details and offer many contemporary-friendly design options.
Natural Materials
Contemporary design offers a chance to blend structural details harmoniously with nature. By integrating man-made and natural materials in the kitchen, bathroom or any space you choose, you are setting the table for a look of elegant appeal.
Quartz is one of nature's strongest minerals. Caesarstone kitchen quartz countertops consist of up to 93% quartz stone and are resistant to typical surface tensions like scratches, cracks, hot and cold, while still offering the freedom of design. Green architecture is also an important component. Incorporate organic materials such as wood, slate, stone and linen into your architecture and decorative accents.
Open Floor Plans
Merging kitchens with dining areas and living rooms into a great room is a key element in contemporary design. Blend the zones smoothly and celebrate empty spaces without things. Break furnishings into groups, use lighting to highlight certain areas, and choose Caesarstone surfaces for a streamlined migration into the kitchen area. Open cabinetry shelving and keep dishes uncluttered.
Modern vs. Contemporary
Many people confuse contemporary with modern architecture and design. While both descriptive words have overlapping characteristics, they are rooted in different eras. Modern style takes on the mid-century design of the 1920s-1950s. Contemporary is rooted in the now; however a softened retro style is very often incorporated.

The whole idea is to let go of rigid design rules that restrict your creativity. Borrow elements from different eras or streamline a minimalistic approach—it's up to you and how it fits into your lifestyle. The overall goal of contemporary design is to provide comfortable livability where you can relax with family and friends, while still enjoying a minimalistic approach.