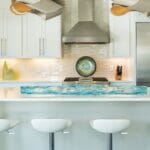 The Pantone Color Institute introduces a new color forecast each year. This authoritative color collection is used by designers and architects to guide consumers in refreshing their interiors with style and elegance. Our designers have taken popular winter warm Caesarstone surface colors and paired them with the 2017 Pantone colors and popular cabinetry woods. The result is a useful guide to updating any room without losing the timeless appeal of a color palette that both comforts and elevates its occupants.
Read on for some of the Perfect Pairings put together to inspire your clients for wintertime, the upcoming holiday season and the 2018 New Year!
Kale/Blizzard: This pairing evokes the peacefulness of nature and the calm of a perfect winter's day spent watching the snow fall outside.
Greenery/Quartz Reflections: Bring a little icy sparkle into your life with this stunning look.
Pale Dogwood/Tuscan Dawn: This laid-back pairing offers the ultimate in comfort and serenity, exactly what every family needs as the relatives arrive from out of town to celebrate the holiday season.
Island Paradise/Wild Rice: Create a look that is both high energy and earthy with this pairing, which calls to mind fresh bread baking in the oven and a big pot of steeping Earl Grey.
Hazelnut/Blizzard: Stylish and inviting, this combination is on-trend while offering both warmth and modernity. It is a welcoming space for your most ambitious holiday decorating project.
Lapis Blue/Statuario Nuvo: These color pairings awakens the senses and serve as the perfect backdrop for a New Year's celebration.
Primrose Yellow/Dreamy Marfil: Combine bold colors with a neutral surface material for a space that pops and inspires when you welcome everyone over for a holiday feast.
Pink Yarrow/Nougat: Relax into the calm of this nature-inspired pairing. Enjoy the crisp, clean style as you sip your hot chocolate and relax with a thick novel on a cold day.