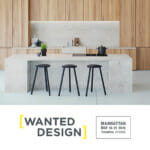 Each year, hundreds of up-and-coming artists, established designers, and innovative brands looking to share in the celebration of global design gather together in New York City to showcase their creative endeavors and works of craftsmanship. WantedDesign is an annual trade show during NYCxDesign dedicated to promoting artful vision and fostering the international creative community. With over 2,500 attendees—attracting designers, architects, and design lovers—the trade show provides a 360-degree experience with cultural collaborations, immersive installations, interactive experiences, workshops, and more.
This year's event marked the debut of our newest nature-inspired design in the Metropolitan Collection, Primordia—where industrial meets nature. Primordia's cool grey complexion echoes the character of concrete, evoking the provenance of its contemporary feel. Composed across its light grey base, soft mineral accents in off-whites and greys combine with darker veils of grey and brown to reflect the oxidized rusts found in natural stone.
We were thrilled to sponsor the exclusive opening celebration as we partnered with Diplomatico Rum to provide signature cocktails at our Primordia bar installation, which also opened to the public the following day May 18 through May 21. The Caesarstone signature drink was a watermelon/rum cocktail called 'Empira State of Mind' which was named after one of our new 2019 colors, Empira White. Diplomatico Rum also served their Diplo Old Fashioned.
The festive, high-energy opening night was heavily attended by designers, builders, influencers and the press with a line waiting to get inside to see the innovative installations. Attendees were excited to see and experience our newest color, which proved to be highly durable and livable during the event since it was used as an active bar throughout the weekend. As with all Caesarstone quartz, Primordia demonstrated how easy it is to clean and maintain…even when serving drinks to hundreds of people.
During the event, we also launched other exciting new light designs in our Spring into Light palette, like the inherently elegant Empira White, which is part of the marble-inspired Supernatural Collection; the urban-cool Flannel Grey, part of the Classico Collection; the easy industrial Topus Concrete, the playful, terrazzo-like Frozen Terra, and the captivating Airy Concrete—all part of the Metropolitan Collection you've been seeing in show homes, hospitality settings, artful installations, residences, and commercial projects across the globe.
Because our premium, high-quality quartz is nonporous, durable, flexible, scratch and stain resistant, mold and mildew resistant, and lower maintenance than other surface materials, it can be used in any type of installation, including interior locations that get wet, like bathroom vanities, showers, butler's pantries, and bars.
Our handy online Visualizer was available at the show where guests experienced first-hand their favorite designs in full slab views and explored our new colors in a kitchen, bathroom, and office setting complete with views of countertops, backsplashes, flooring, vanities, wall cladding, shelves, shower base and surrounds, stairs, reception desk, and more.
Visit our online Visualizer now for a quick and easy view of how these surface designs look in different spaces.
Featuring the work of more than 140 exhibitors from many different countries, WantedDesign is the most engaging hub for design during NYCxDesign exhibiting young companies alongside the world's most established brands.
Please contact a Caesarstone consultant for a Primordia sample and other samples from our Spring into Light palette.
Follow the Caesarstone hashtags for inspiration from this year's successful events.
#CSseasons
#CSspringintolight