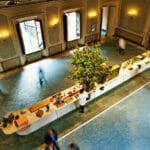 Caesarstone has well-documented uses throughout the home. What you may not realize though is that this material is just as versatile outside the home too. Caesarstone's unique manufacturing process focuses on delivering a high-quality material that offers outstanding performance, exquisite beauty and product flexibility.
This combination makes Caesarstone the ideal material to use in a range of innovative projects as demonstrated over the last six years during Milan Design Week.
2013 Nendo
Caesarstone and renowned Japanese design studio Nendo unveiled two exclusive installations at Milan Design Week 2013. The Stone Garden exhibition clustered 'table-like' surfaces together to reflect minimalistic beauty to show how Caesarstone's versatile surface designs can work in any space.
"The unique variety and quality of natural colors and textures of the Caesarstone surfaces are perfect to be arranged in a composition like the stylized landscape of a Japanese rock garden." – Oki Sato, founder and chief designer of Nendo
2014 Raw Edges
Raw Edges, a London-based design studio, created seven living Caesarstone islands that provide an innovative look at domestic spaces. This playful focus reimagines Caesarstone's properties and inspires their use for more unconventional purposes.
Islands by Raw Edges features seven surfaces that combine functional pieces such as the top of a vanity, a kitchen and a bathtub with more whimsical concepts.
A ping-pong table, fish tank and counter of wooden blocks juxtapose with the traditional uses of Caesarstone to deliver a fresh perspective that can be integrated into any design.
2015 Philippe Malouin
In 2015, artist and designer Philippe Malouin created an interactive outdoor installation titled Movements that featured a 12-piece swing set, erected in a circular shape to show the color and versatility of Caesarstone. Premiering at IDS Toronto, the Movements installation displayed in the grand hall of Palazzo Serbelloni during Milan Design Week in April 2015 and showed later that year at Art Basel Miami.
2016 Tom Dixon
The Restaurant was Caesarstone's 2016 collaboration with world renowned British designer Tom Dixon. The successful installation was a series of four interactive kitchens and dining areas, proving the durability of Caesarstone quartz through demonstrations, food and drink preparation, and food preservation.
"What you see when you are working in a kitchen is the battering that the equipment gets, and one of the most important things is the surface."
"So, we decided not to do a show of products for Milan design week, but to put together this restaurant instead because it's the optimum landscape for showing people how things function," said Dixon.
2017 Jaime Hayón
Stone Age Folk was an exhibition by Spanish designer Jaime Hayón for Milan Design Week 2017. Hayón combined traditional marquetry techniques with Caesarstone to construct a pavilion within the ballroom of the 18th-century neoclassical palace Palazzo Serbelloni.
Using 48 different forms of Caesarstone, Hayón combined them with metal and stained glass to create a stunning series of frames containing depictions of abstract faces. These surround playful, bird-like furniture, whimsical carousels and light fixtures designed of Caesarstone materials.
"People tend to see Caesarstone as a material that is only used in kitchens, but I looked at it from the viewpoint of an artist and designer. With this in mind, I wanted to create my own imaginative cosmos, using the brand's quartz material alongside other noble materials like glass and metal." – Jaime Hayón, Designer
2018 Snarkitecture
This year, Caesarstone unveiled Altered States, a collaboration with New York-based designer firm Snarkitecture, at IDS Toronto in January. This installation examines the kitchen island through the changing states of water. It is inspired by topographic landscapes, exhibiting four islands composed of multiple layers of stacked Caesarstone slabs.
The next stop is Milan Design Week where Altered States will showcase at the faded grandeur of Palazzo dell'Ufficio Elettorale di Porta Romana.