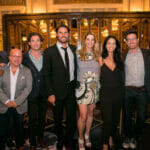 On Tuesday, September 8th, 2015, San Francisco's legendary Palace Hotel played host to the first annual Designer Mix-Off competition, sponsored by California Home+Design magazine in partnership with Caesarstone.
Taking place in the hotel's historic GC Lounge, recently renovated by Indidesign, the event gave interior designers the chance to show off their inner mixologist by creating unique cocktails based on shades from Caesarstone's new collection.
The stakes were high and the competition fierce all night. Using spirits provided by Anchor Distilling, designers came up with lively libations inspired by Caesarstone colors such as Dreamy Marfil, Raw Concrete, Fresh Concrete and Alpine Mist. Guests sipped on inventive beverages such as the Vicente Cocktail (Eche Martinez), the Misty Fog Cutter (Steven Miller of Steven Miller Design), the Vodka Quince Schrub (Jeff Scrhub of Green Couch Interiors), and the classy Concrete Cognac (Will Wick of Wick Design.)
Marcus Osborne of local San Francisco radio station Alice 97.3 hosted the evening while the judging panel included Million Dollar Listing San Francisco's Justin Fichelson, Beatrice Girelli of Indidesign, Maggie Amir of Caesarstone, and Erin Eggleston from Liqour.com. Guests at the event also had a say in choosing a winner by tasting the concoctions and voting for their favorites on Instagram.
There could, however, be only one winner. Tineke Triggs of Artistics Design for Living took the grand prize for her The Alpine Mist, a Mezcal-based spin on a Moscow Mule that wowed judges with some special ingredients including actual "mist" provided by a chip of dry ice! Find the winning recipe on California Home + Design's website.
Caesarstone is proud to have been part of such a fantastic event. Here's a toast to all the amazing, creative individuals and companies who came together to make it happen. Cheers!