Back to Main Blog Page
Reading:
Caesarstone Introduces New 2018 Quartz Surface Designs & the Metropolitan Collection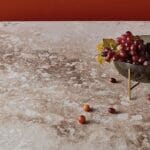 The industrial, urban look continues to be a rising trend in kitchen design, and it has been difficult to achieve in quartz… until now!
Earlier this year, Caesarstone launched three new white quartz surfaces – Cloudburst Concrete, Frozen Terra and Intense White. We are now thrilled to bring you four additional new designs – Excava, Topus Concrete, Airy Concrete and Flannel Grey.
Five of the seven 2018 surfaces belong to the new Metropolitan Collection—colors that lead the industrial drift that is trending in interiors. The five designs are inspired by factories and lofts that translate into residential and commercial interiors of all styles.
Excava, Airy Concrete, Topus Concrete, Cloudburst Concrete and Frozen Terra join Fresh Concrete, Raw Concrete, Rugged Concrete and Sleek Concrete to shape the new Metropolitan Collection.
To create the new colors, Caesarstone utilizes cutting-edge technology that achieves a weathered patina in quartz never experienced before. This is a breakthrough one can literally feel and experience. The Metropolitan Collection is crafted beauty reflective of the layers found in industrial art and architecture, highlighting dimensional surfaces and unpolished colors, and bringing texture to the surface.
Two of the seven new quartz surface colors, Flannel Grey and Intense White, join the Classico Collection, which includes popular designs used in a variety of residential and commercial applications.

Excava 4046: Deep auburns, chestnuts and coppers sweep across an unpolished canvas. The surface's excavated look and feel were inspired by the intriguing manufacturing patinas of casting and oxidizing. In Excava, authentic features of rust and concrete are achieved for the first time in quartz. The bold and dynamic visual presence has a warming effect and compliments a wild or urban aesthetic. Find sophistication when paired with matte finishes, taupe tones and mahogany.

Topus Concrete 4023: Rich shades of buttermilk veil a cream-toned base creating a multi-layered effect. The subtle movement of the surface reveals depth and dimension as undertones echo the pastels that are impacting interiors today. Topus Concrete's complexity blurs the boundaries of ancient masterpieces and modern construction.

Airy Concrete 4044: A calm grey base enriched by lively clouds of white and dark grey capture the essence of the interface between water and air pulling the gravity of waves to the surface. Its airy visual textures express depth and connect you to your surroundings. Airy Concrete meets the ongoing demand for industrial design with a softened edge.

Cloudburst Concrete 4011: Soft swells of pure white veil a creamy white base as rich tones and an innovative texture further define its captivating, infinite beauty. Cloudburst's sophisticated surface delivers a tactile effect of a concrete-like feel. It is the calm before the storm and will elevate a space to new heights. The white on white tonal cloud-like patina, with its low-reflective surface, provides design flexibility by lightening up a space and evoking a refined, urban aesthetic. This Caesarstone color is the romantic interpretation of the industrial interior trend.

Frozen Terra 4601: A classic, neutral-colored white base is embellished by glimmers of black basalt and translucent grey quartz. Frozen Terra fuses the playfulness of terrazzo with the robustness of concrete translating a sophisticated, worldly vibe. The textured finish further enhances the surface adding another layer of allure. This Caesarstone color compliments both light cabinetry for a casual feel and dark hardware for a chic vibe.

Intense White 6011: Petite crystallines softly embellish a bright white base welcoming light into a room, setting the tone for a sophisticated space with a radiant atmosphere. The mosaic-inspired pattern gleams across the expanse of the surface bringing fresh optimism to interiors. Its versatility invites freedom of design complementary to a variety of cabinet colors. Intense White is further elevated by a 'lightly textured' concrete finish that adds depth and interest

Flannel Grey 4643: Dark grey accents swirl across a soothing medium heather grey base. This versatile neutral can work in contrast to bold colors or can calm a space in monochromes. Flannel Grey is urban-cool when coordinated with rich cabinetry and slate, and when accented by on-trend hues such as turquoise or terracotta.
Caesarstone's Metropolitan Collection has been designed to reflect the authentic patinas of industrial materials. The variations in appearance capture real depth and movement, revealing different qualities that make each slab unique, and making them inspiring in kitchens, surprising in bathrooms and striking in hospitality.
And check out this article from one of our partners about a few of our concretes
Caesarstone surfaces are nonporous, durable, mold and mildew resistant, and scratch, stain and heat resistant.