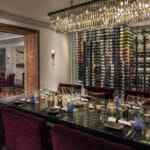 Caesarstone countertops and other products combine high-quality craftsmanship, impressive durability and an elegant appearance, making them an ideal choice for a wide range of dining establishments. From bakeries to wineries and award-winning restaurants, Caesarstone surfaces play an integral role in enhancing restaurant design.
The following restaurant industry clients chose Caesarstone for recent remodeling and design projects.
Tarte Tatin Bakery and Café
The owners of Tarte Tatin, a Mediterranean-themed bakery and café in Beverly Hills, wanted a rustic yet sophisticated design for their second location. With the help of Otto Design Group, Tarte Tatin selected Caesarstone quartz in Raw Concrete for their long counter as part of the overall design. The counter adds an upscale touch to the bakery and cafe while also providing a practical and highly durable surface that can handle daily use without developing signs of wear and tear. The Raw Concrete tone also complements the more rustic wood materials used in the cafe, creating a warm and inviting blend of earthy, natural surfaces and elegant, sophisticated ones. Woodlands and Calacatta Nuvo were also used in the space.
As Karen Spector of Otto Design Group explains, "Caesarstone is one of those materials that we know is going to be low or no maintenance." This is an important quality for restaurant countertops to have, since they are used on a regular basis. Being able to withstand frequent use while maintaining its original appearance is part of what makes Caesarstone an excellent option for even the busiest dining establishments.
Explore the newest location of Tarte Tatin Bakery and Café in this video.
The Bear and the Star at Fess Parker Winery
At the Bear and the Star restaurant, located at Fess Parker Winery in Los Olivos, California, the owners wanted to create an interior that exudes warmth and rustic charm in order to make guests feel at home while also featuring touches of luxury. The owners ended up selecting not just one, but three different Caesarstone products for the dining areas and bar. The bar features a Sleek Concrete counter that offers a bit of contemporary flair among the more rustic decor, while the dining room features sleek and elegant Vanilla Noir dining tables. These darker tables give the room a more intimate feel and a slight contrast with the surrounding lighter-colored walls.
In the Chef's Room, a quartz chef's table in Caesarstone's Noble Grey serves as the highlight. As owner Eli Parker describes it, "the centerpiece really is that beautiful chef's table that is at the heart of the whole room." Parker appreciated having a wide range of colors to choose from among Caesarstone products. These color options provide restaurant owners in general with a diverse palette that makes it easy to create the exact look they want.
Tour the luxe rustic interior of Fess Parker's The Bear and the Star in this video.
Del Posto
The owners of award-winning restaurant Del Posto, located in New York City, were interested in creating a design that included beautiful, high-end Italian features and materials that are strong enough to last for many years. When it was time to choose a material for the restaurant's bar countertops, they went with Caesarstone's Calacatta Nuvo. This quartz material features stunning colors and impressive color consistency while also providing a high amount of durability. The Calacatta Nuvo bar countertops at Del Posto add a sleek, upscale touch and lighter tones that create a visually appealing contrast with the surrounding darker tones.
As Del Posto General Manager Jeffrey Katz explains, "We chose this color because it most closely mimics Carrara marble." However, unlike Carrara marble, which would not have been able to hold up well under repeated use, Caesarstone's Calacatta Nuvo is made to be durable enough to handle daily use, even at a world-renowned restaurant. In fact, restaurant owners tend to choose Caesarstone products for their resistance to stains and scratches, low need for maintenance and elegant beauty.
See the extraordinary architectural features of Del Posto in this video.
Caesarstone quartz surfaces are widely used in commercial applications, offering color innovation, product reliability and peace of mind.
Look for part two of the series: 'Caesarstone Hospitality Series: Hotel Design' coming soon.