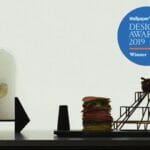 Wallpaper* is a monthly British magazine that focuses on architecture, design, art, travel, fashion and lifestyle. The print publication was founded in 1996, with the launch of their website in 2004. This year marks the 15th edition of the Wallpaper* Design Awards where an elite panel of judges select the very best in design across 11 special award categories.
Frozen Terra, a design from the Caesarstone Metropolitan Collection, has been awarded Winner in the Best Stealth Health category for the Wallpaper* Magazine 2019 Design Awards.
This year's Best Stealth Health category celebrates architectural tabletop designs including Studio Swine's brushed silver condiment set, Bloc Studios' marble podiums, Pietro Russo's brass fruit stand and Caesarstone's Frozen Terra surface. Other winners in the category include KUF Studios for their cakes that look like solid objects, Seedlip for their crafty non-alcoholic drinks and Marxito for their healthy street food. See images at the top of this page.
This year's judges table includes:
Bjarke Ingels: Danish architect
Neneh Cherry, style icon, musician
Philippe Malouin: 2018 Wallpaper Designer of the Year
Do Ho Suh: London-based Korean artist
Paula Antonelli: Senior Curator of the Department of Architecture and Design at the Museum of Modern Art
David Korins: Broadway set designer
Frozen Terra (4601) is a classic, neutral-colored white base embellished by glimmers of black basalt and translucent grey quartz. Frozen Terra fuses the playfulness of terrazzo with the robustness of concrete translating a sophisticated, worldly vibe. The textured finish further enhances the surface adding another layer of allure. This Caesarstone color compliments both light cabinetry for a casual feel and dark hardware for a chic vibe.
See the full list of Wallpaper* Magazine 2019 Design Awards winners in the February 2019 issue, on newsstands now or on the Wallpaper* Design Awards Hub over the next few weeks.