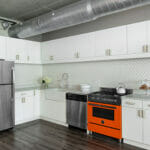 ​Caesarstone was proud to participate in the Dwell Design Source at Met Lofts again this year. Three exemplary ASID interior designers were selected to design and stage custom loft suites in Downtown Los Angeles. The designers selected Caesarstone as their surface of choice for their kitchen designs. Slesinski Design Group, Inc., FOUR POINT Design+Construction, Inc., and Rachel Winokur Interiors are featured in the month-long showcase of contemporary and creative design.
About the designers:
Frank Slesinski, principal of the Slesinski Design Group. Inc. brings a sophisticated and diverse aesthetic to his work, from cutting edge modern to eclectic traditional. Whether the space is public commercial or a private residence, "You must be able to live in the space, not just look at it. Comfort and functionality are key factors in great design." Realizing clients' dreams with quality execution within established budget parameters is Frank's forte.
Rachel Winokur is an award-winning Interior Designer creating sustainably elegant residential and hospitality interiors. Projects range from an eco luxury hotel spa on the beach in Santa Monica to a cutting-edge high-rise condo in historic downtown Boston . Rachel has appeared on numerous episodes of House Crashers and Design Wars on HGTV and DIY. Her firm, Rachel Winokur Interiors is based in LA with clients on the East and West coasts.
Laura Schwartz-Muller
CEO / Founder + Principal — FOUR POINT Design+Construction, Inc.
Our dedicated FOUR POINT team of experts brings a comprehensive combined skill set to every residential and commercial project delivering thoughtful and exciting solutions to every design and construction challenge taking meticulous care to listen, communicate and inform clients every step of the way, and believe that EVERY Detail Matters TM. Working to improve, enhance, and "make beautiful" our client's quality of life, health, work, and home by designing and building beautiful environments that provide order, inspire creativity, and generate good health, productivity, and joy! Our team of design and build experts draws on multidisciplinary backgrounds to determine and create the perfect solutions to your project needs. We specialize not only in the interior design and construction of the visual aesthetics, but in generating, coordinating and maintaining documents, timelines, schedules, budgets and construction quality throughout the entire project to completion. It is with focused leadership, experience, knowledge, and high personal integrity, that FOUR POINT generates a unique team experience.