A homeowner should not be forced into a century-old home if they want to enjoy the glamour of a farmhouse kitchen. With modern renovations, anyone can enjoy charming farmhouse kitchens despite the location or age of their house.
Making certain changes here and there, like pairing farmhouse kitchen countertops with a farmhouse style sink and cabinetry, can do wonders to the kitchen area.
This article will discuss some great ideas for homeowners who want to give their kitchen a beautiful, vintage look with farmhouse kitchen countertops: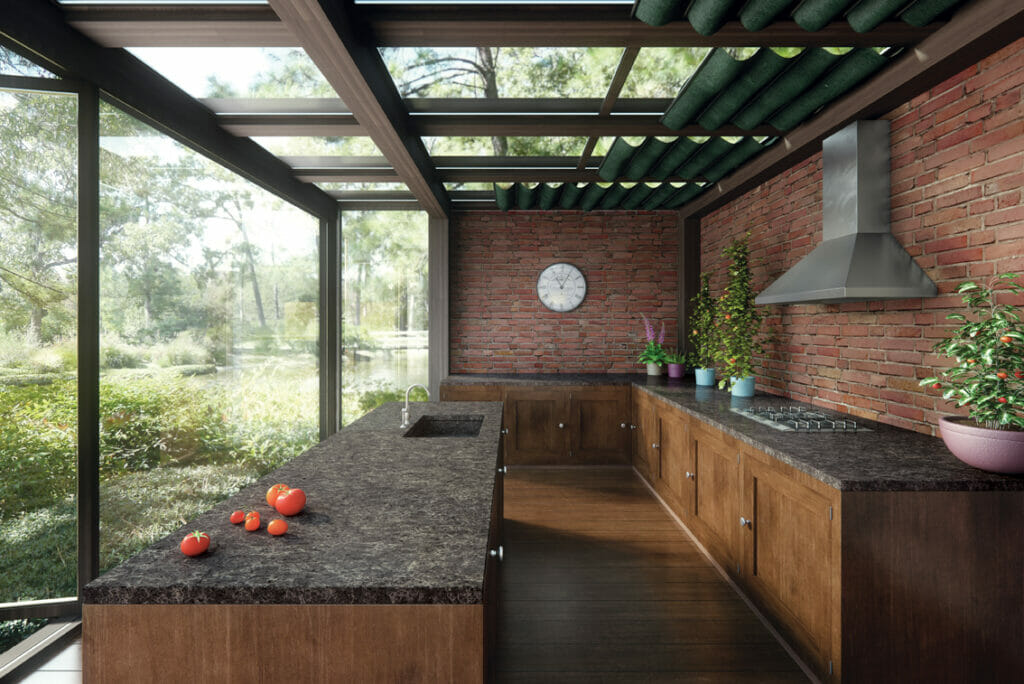 Rustic farmhouse kitchen countertops
As the name suggests, rustic decor adds a weathered and classic look to the kitchen. Many homeowners have the urge to admire the past, and honor tradition through elements of design. Countertops like Caesarstone's 6003 Coastal Grey bridges a gap between the present and the past.
Rustic countertops and other vintage-inspired kitchen essentials help piece together the perfect farmhouse kitchen. Of course, homeowners could add wooden cabinets and even a sink with a wooden aesthetic if they want to experience that vintage era.
Homeowners could also add some rustic-looking accessories to the kitchen to give the space that quintessential classic look. For example, accessories like yellow lighting, 60s kitchen utensil sets, a historic teapot, clay pots with historical imprints, etc., could be added to the farmhouse kitchen.
Rustic but modern kitchen countertops
The rustic farmhouse kitchen often features a wooden countertop. But homeowners that want the best results (both visually and physically) should opt for a high-quality material, like quartz. In that situation, homeowners can go with the simple idea of installing a countertop that is not wood but has wood-like hues and tones, like Caesarstone's 6338 Woodlands.
When using quartz modern farmhouse countertops, an individual can mix the modern era material with the vintage look of the past with ease.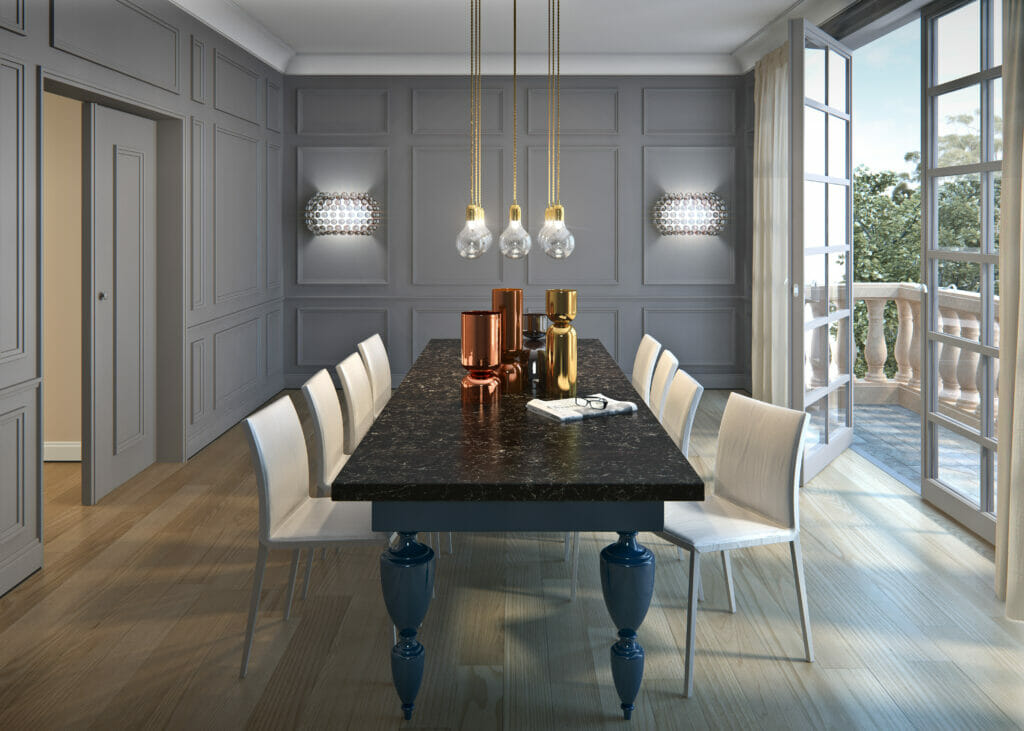 Rustic kitchen countertop with white cabinets
Build a transitional kitchen with the rustic kitchen countertop and white cabinets. This combination provides a fresh and clean look that translates well in a space with a rustic farmhouse theme.
Homeowners can also add dark wooden flooring to enhance the rustic vibe. Adding a white subway backsplash tile to the kitchen will also help enhance the farmhouse kitchen's overall appearance.
A dark lighting fixture could also be added above the island, adding an industrial look and modern appeal to the vintage farmhouse kitchen.
Farmhouse kitchen with butcher block countertops
When it comes to the perfect blend of durability and affordability, there are very few materials better than butcher block. As the name suggests, these countertops can also be used to chop up various types of meat, vegetables, herbs, fruits, etc.
Keep in mind butcher block requires special cleaning and regular sealing to last as long as possible.
Butcher block countertop with contemporary white cabinets
If homeowners do not have the room to build a spacious kitchen, they could go with a cozy kitchen created in the corner of the home. The addition of white cabinets along with black handles adds a classic look to the kitchen and makes it feel more spacious than it actually is.
When a homeowner also features a beautiful butcher block countertop in the kitchen along with the white cabinets, the perfect vintage look is visible in the kitchen.
Some other counterparts, if added to the kitchen, can provide the kitchen with the perfect rustic look. These can include: a metallic pendant, vintage wooden stools, cylindrical range hood, dotted carpeted floor, and more.
If homeowners want to create a dining area in their kitchen, they could simply extend the countertop, and their dining area is ready. The extended countertop will also work as the separation between the living and the dining area.
Waterfall butcher block island
A beautiful view of nature is all the mind needs to get the sensation of peace. A farmhouse kitchen that features eye-catching high gloss white cabinets, with stunning farmhouse style countertops or white quartz countertops, like Caesarstone's 1141 Pure White, always look beautiful.
All these features, along with a central island featuring a stunning chestnut butcher block countertop and a beautiful modestly toned wood floor, give the kitchen a look that is able to please every eye.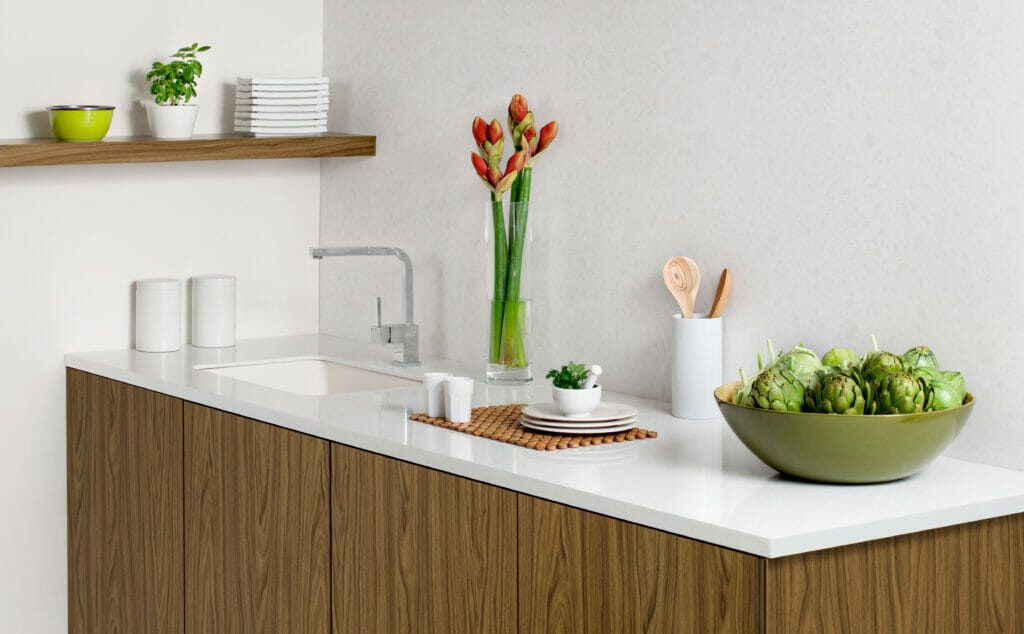 Scandinavian-inspired kitchen with butcher block countertop
The Scandinavian kitchen designs give visuals of the beautiful harmony created by the wooden materials and white color. Butcher block countertop completed with white kitchen cabinets and gray backsplash transforms the person watching into an admirer.
Homeowners can also include pendants and wooden dining sets in this kitchen style as it creates a calm atmosphere.
Kitchens of this style are incomplete without the vaulted ceiling, which adds a note of drama to this calming and simple space.
Gray kitchen island with butcher block countertops
A beautiful kitchen countertop with a wooden appearance gives a perfect harmonious appearance to the farmhouse style kitchen when they are combined with gray or white island. A perfect example could be a kitchen with a butcher block countertop and gray island made out of a high-quality material, like engineered quartz.
When mixed with a classic wooden cabinet, these features bring a feeling of strong personality and give an earthy appearance to the kitchen.
8 ideas for farmhouse kitchen countertops — Conclusion
Things change along with time, this might be true in most cases, but when we talk about kitchen countertops, things take a slight U-turn. Classic kitchen countertops like rustic farmhouse kitchen countertops, are again taking over the market and have come popular amongst a wide variety of homeowners.
Adding rustic decor to the kitchen doesn't just look distinguished; it also represents the personality of the homeowner. This type of kitchen has a calming aura and is very pleasant to look at.
Farmhouse kitchen countertops help to set an atmosphere, and a beautiful countryside vibe is set with these countertops.
When these modern farmhouse countertops are installed in the kitchen, it provides the room with a cozy and welcoming feel.
The warmth that these farmhouse kitchen countertops bring to the kitchen becomes more soothing when the sun is about to set.
Homeowners who want to stand apart from the crowd can go with these countertops and watch their guests drop their jaws while appreciating them.