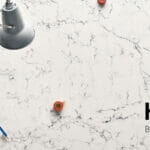 Three Incredible Days at KBIS 2017! Our new colors: White Attica and Georgian Bluffs were certainly celebrated. We showcased White Attica in our kitchen. We paired this bold new color with Raven and natural walnut. Chefs Andrew Wiseheart and Hugh Acheson thoughtfully prepared tasting plates for some lucky guests!
Our coffee bar was buzzing all day long; thousands of guests were able to picture Georgian Bluffs in their own home as they prepared their perfect Americano. We paired this beautiful grey with dark blue cabinetry & live edge Colorado pine.
Our stunning Concetto display provided the ideal backdrop for trend talks by design pros Sabrina Soto, Nigel Barker and Matthew Quinn. They shared their top insights and trends to watch for in 2017.
It was fun to celebrate the launch of Transform by Caesarstone with Jason Cameron. He shared home remodeling trends, tips and even some behind the scenes TV magic!
Thank you to all who joined us in Orlando — it was fun to welcome you into the Caesarstone home and celebrate the kitchen and bath industry with you!
For more information on KBIS 2017 Click Here.