Instead of treating laundry rooms as an afterthought — give it the love and care it deserves with the right strategic layout and beautifying decor. The best way to do this is to place a countertop over the washer or dryer.
It gives enough space for homeowners to fold clothes or a place to keep detergents and other cleaning products. Plus, it will make the laundry room a nice place to spend time in, even while doing chores. For the best results, the counter one chooses for a laundry room must be durable and stylish.
In this guide, homeowners can find the latest laundry room countertop ideas to make their space a beautiful yet functional place:
Laundry room countertop ideas for residential spaces
Here are six top-notch laundry room countertop design trends:
Butcher block countertops laundry room additions
When it comes to laundry room renovation, installing a butcher block countertop is an ideal choice. It can be done as a quick and simple stand-alone project, giving the space a significant upgrade. To add such a countertop, have a sheet of butcher block cut to size to fit over the top of the washer/dryer and attach it to the surrounding cabinetry or mount it to the wall.
Counters offer a useful work surface for folding garments before transferring them to their respective spots. If homeowners have front-loading appliances, a nice area to make room for one is beside the washer/dryer with another part just over it. Also, one can cut out space for the countertop next to the washer or dryer.
White laundry countertop with beige curtains
The perfect laundry room is both functional and stylish. A white countertop offers a bright, airy workspace for sorting and folding clothes. Beige curtains add a touch of elegance while also allowing natural light to flood the room. The result is a cheerful space that makes doing laundry a pleasure.
Plus, the neutral colors allow the laundry room to blend seamlessly with the rest of the house. In other words, it's a space that doesn't sacrifice function for style.
For instance, Caesarstone's 1141 Pure White and 1111 Vivid White are fantastic options when it comes to laundry room countertops. Plus, they contrast perfectly with beige-colored curtains.
Try quartz countertops for the laundry room
Quartz is considered to be among the best countertops for laundry room spaces as it is a long-lasting and high-quality material.
This engineered stone is considerably eye-catching and is relatively low-maintenance (as it is non-porous).
This is extremely important for laundry room countertops as there's a good chance of spilling detergents and cleaners on a regular basis.
Quartz always looks stylish too; quartz countertops come in an array of design options that homeowners can choose from. One can choose a solid color, patterned, or anything they love. For instance, Caesarstone's 4046 Excava is a great patterned quartz countertop option for any homeowner's laundry room space.
Include a stylish laundry room island
When it comes to countertops for laundry room spaces, an island is a great laundry room countertop idea that adds storage and functionality. An island can provide additional counter space for folding clothes or storing laundry supplies. It can also create a natural workflow by placing the washing machine and dryer in close proximity to each other.
And, if a homeowner chooses a portable island, they can easily move it around as their needs change. Best of all, a laundry room island can add a touch of style to an otherwise utilitarian space. So for those homeowners looking for ways to make their laundry room more functional and stylish, consider adding an island.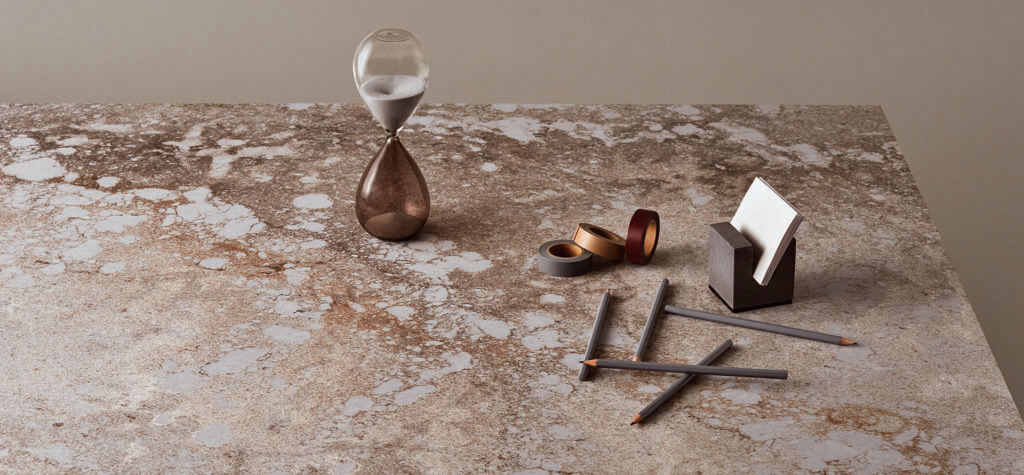 Run a countertop along the entire wall
Homeowners whose laundry counter ideas are narrow and long can install a countertop along the entire wall. Use this space to place laundry baskets, iron clothes, or stack the family's laundry pile.
Caesarstone's 5820 Darcrest or 5130 Cosmopolitan White looks great when it comes to designing a countertop along the entire wall.
Laundry room with blonde wood countertop
The laundry room is the most important place in the house. It's where we clean our clothes and linens and often do other household chores like ironing and sewing. But the laundry room is also a space where we can retreat from the hustle and bustle of daily life. That's why it's important to design this space with care.
A blonde wood countertop is a perfect way to add a touch of luxury to the laundry room. The warm tones of the wood will create a calming atmosphere, and the durability of the material will ensure that the countertop withstands the wear and tear of everyday use.
Which materials to use for laundry room countertop ideas?
There are many materials that are appropriate for countertops in laundry rooms. Some of the most popular options are:
Butcher block
Wood or butcher block countertops are long-lasting, widely accessible, and simple to install. Butcher block counters need to be sealed since wood can become distorted in warm, high-humidity environments. These counters provide longevity and durability when handled properly, but not as much as some higher-quality materials.
Solid surface
Because they are smooth and non-porous, solid surface countertops, such as those made of acrylic, won't absorb heat or moisture from the laundry room the way a wood countertop can. However, since doing so risks melting the countertop, homeowners should avoid ironing on it.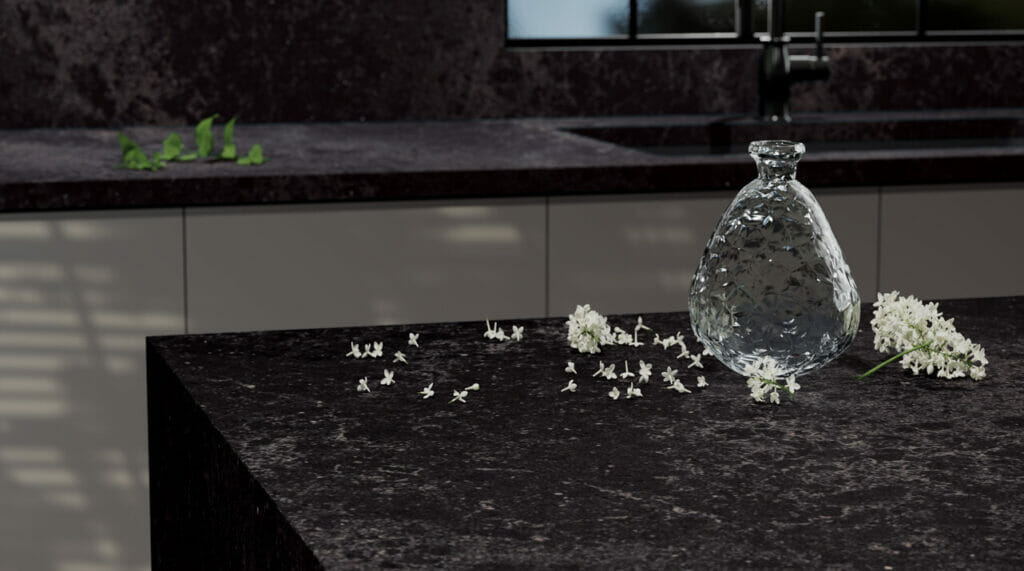 Engineered quartz
One of the top laundry room countertop options is engineered quartz. Engineered quartz is exceedingly strong and will endure a lifetime of regular use. They are available in an array of design options to choose from. Plus, they do not require any regular maintenance like sealing as they are non-porous.
Homeowners should always look for quartz countertops manufactured by a reputable company, like Caesarstone. Working with a reputable company ensures that the end results look fantastic and lasts for years.
6 laundry room countertop ideas — Conclusion
These were the laundry room countertop design ideas that one can make use of for their space. Homeowners should always use high-quality products for their home renovations. Quartz is a reliable product for countertops in any part of the home. Quartz will surely make the space a beautiful place to be in. They will surely make the space a beautiful place to be in. Plus, it will ensure that the space is functional too!