Reading:
Caesarstone, Luxury Quartz Surface Manufacturer, Featured In Traditional Home 2017 Southern Style Now Showhouse
Caesarstone, Luxury Quartz Surface Manufacturer, Featured In Traditional Home 2017 Southern Style Now Showhouse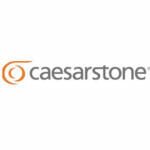 LOS ANGELES, Nov. 9, 2017 /PRNewswire/ — Caesarstone, luxury quartz surface manufacturer, will be the surface of choice in the Traditional Home 2017 Southern Style Now Showhouse in Savannah, GA. The home will be open to guests from November 10 – December 8, 2017.
The showhouse is a freestanding Greek Revival home in the midst of Savannah's Landmark Historic District and listed on the National Historic Registry. Built in 1854, the home boasts views of Monterey Square and features original details including plaster moldings, heart pine floors and marble fireplaces. Traditional Home partnered with Matthew Allan Real Estate and over 25 designers and artists, all with personal ties to the South, to restore the home.
Caesarstone quartz surfaces can be spotted throughout the house including White Attica (5143) in the downstairs kitchen designed by Gwyn Duggan, Fresh Concrete (4001) and Ginger (4330) in the main kitchen designed by Lisa Mende, London Grey (5000) in the upstairs bathroom designed by Chad James, Jet Black (3100) in the master bathroom designed by Kevin Walsh, Piatra Grey (5003) in the office designed by Meredith Ellis, Rugged Concrete (4033) in the garden room designed by Susan Jamieson and White Attica (5143) in the powder room designed by Betsy Berry.
Designer Benjamin Johnston incorporated a back-lighted piece of Puro (8141), from Caesarstone's semi-precious Concetto collection, in a stunning upholstered centerpiece within the master dressing room.
"As a longstanding partner of Traditional Home, Caesarstone is proud to be featured in such a historic home designed by such notable designers," said Nick Harris, VP of Marketing at Caesarstone US. "The showhouse is not far from our U.S. factory in nearby Richmond Hill, and we look forward to further expanding our presence in the South."
This year marks the second annual Southern Style Now design festival, created by Robert Leleux. Southern Style Now is a celebration of design, marked by keynotes, panel discussions, cocktail and dinner parties and exhibitions, with Traditional Home's Southern Style Now Showhouse as the centerpiece.
To purchase tickets to tour the Southern Style Now Showhouse, visit http://www.southernstylenow.com/showhouse-tickets/
About Caesarstone:
Caesarstone is a leading developer and manufacturer of premium quality quartz surfaces. Established in 1987, the company pioneered the quartz surface and continues to manufacture high-quality surfaces utilizing advanced technologies and proprietary knowhow. Caesarstone surfaces consist of up to 93% quartz, retain the cool tactile qualities of nature's strong stones while offering freedom of design with enormous application possibilities including kitchen countertops, bathroom vanities, wall paneling, furniture and more. Caesarstone offers a product that is highly functional, design forward and beautiful, all at the same time.
The unique and rich variety of colors, patterns and textures gives each customer the ability to find their 'ultimate surface' and create their own unique space. Caesarstone's extensive designs are constantly evolving and developing to meet the latest world trends and the highest level of international quality standards.
Caesarstone Sdot Yam Ltd is a public company (Nasdaq: CSTE) as of March 2012. The company's U.S. subsidiary's headquarters are located in Southern California with distribution centers across the country to serve customers nationwide. In May 2015, Caesarstone opened its first U.S. manufacturing plant in Richmond Hill, GA and now offers products also made in the USA. caesarstoneus.com Media Contact: