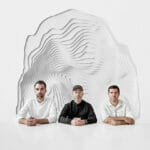 Caesarstone teamed up with New York design firm Snarkitecture to reimagine the kitchen island for an installation premiering at the 2018 International Design Show (IDS) in Toronto.
'Altered States' is a collection of kitchen islands built with Caesarstone quartz that were carefully crafted by Snarkitecture and explore the stages of water, the most basic cooking element. Caesarstone was featured in each of the island displays giving viewers a topographical display of Caesarstone quartz, reflecting a kitchen island's multi-functional surface in an engaging and interactive way.
Ice Island is comprised of 37 layers of Vanilla Noir curving upwards to encircle a sphere of ice that slowly melts when touched.
Water Island was formed with 28 undulating levels of Cloudburst Concrete built around a fountain.
Steam Island consists of 28 sheets of finely rendered White Attica forming a circular cavern where water vapor rises through the layered surface.
Play Island references the high-tech systems of kitchen design. A 'Play to Start' button is embedded in the middle of nine layers of Rugged Concrete.
"As architects, we tend to be very material-oriented,' says Ben Porto, partner at Snarkitecture. 'This collaboration gives us the opportunity to engage and interact with the Caesarstone material, something we would like to pass on to visitors of the installation, demonstrating its versatility and quality."
This collaboration precedes a larger-scale debut during Milan Design Week in April.
For more on Altered States, check out 'Snarkitecture sculpts kitchen islands based on glaciers, rivers and geysers' and this YouTube video.