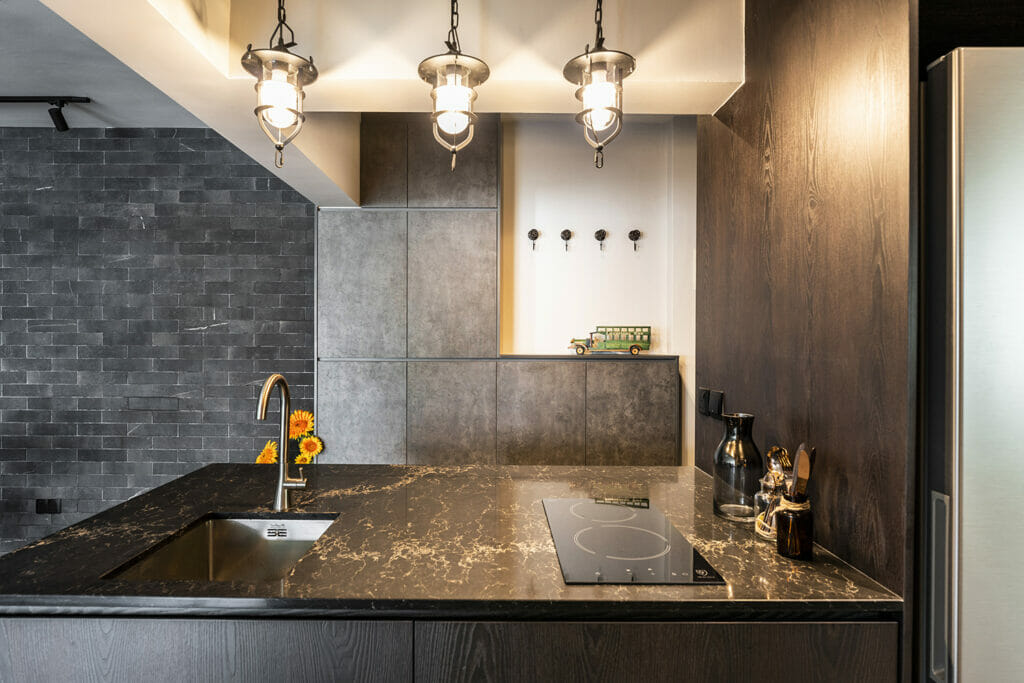 Quartz countertops were first produced in the 1960s and have risen in popularity since that time. According to experts in construction, it is considered one of the best options for commercial and residential countertops.  
This is primarily because it is more resistant to stains, but this does not mean that it's impossible to stain. Just like every other countertop, quartz is vulnerable to stains, including water stains. If not taken care of properly, they can cause severe damage to quartz countertops. It is essential to take the time to remove hard water stains as soon as they occur.
Read on for all the details on how to maintain the beauty of quartz countertops by removing hard water stains, as well as some practical tips for general maintenance.
Causes of Water Stains on Quartz Countertops
Quartz is stain-resistant, not stain-proof, which means that while it's very tough to stain, staining is still possible if the wrong substances are left for enough time.
Water stains are caused by mineral deposits within hard water. The stain occurs when the minerals merge with the quartz. As it accumulates, it becomes more visible and damages the aesthetic of the quartz.
Steps to Remove Hard Water Stains from Quartz
In this section, we'll take a look at the steps of how to remove water stains from quartz countertops safely and effectively.
Use Soft Scrub Liquid Gel
To remove hard water stains on quartz countertops, it is recommended homeowners use Soft Scrub Liquid Gel, a non-abrasive cleaner. This gel should be applied to a damp cloth or paper towel – not applied to the countertop directly. The stain should then be wiped up in a circular motion.
Clean spills quickly
The best way to avoid hard water stains on quartz countertops is to clean them as soon as they happen. This will keep them from being able to settle into the pores of the quartz and causing a stain. All Caesarstone countertops offer the very best in stain resistance, but ensuring they are wiped down regularly will help keep them beautiful for years to come. Even our& darker color tones, like 5100 Vanilla Noir, require light cleaning daily, as certain marks, such as fingerprints, can become noticeable.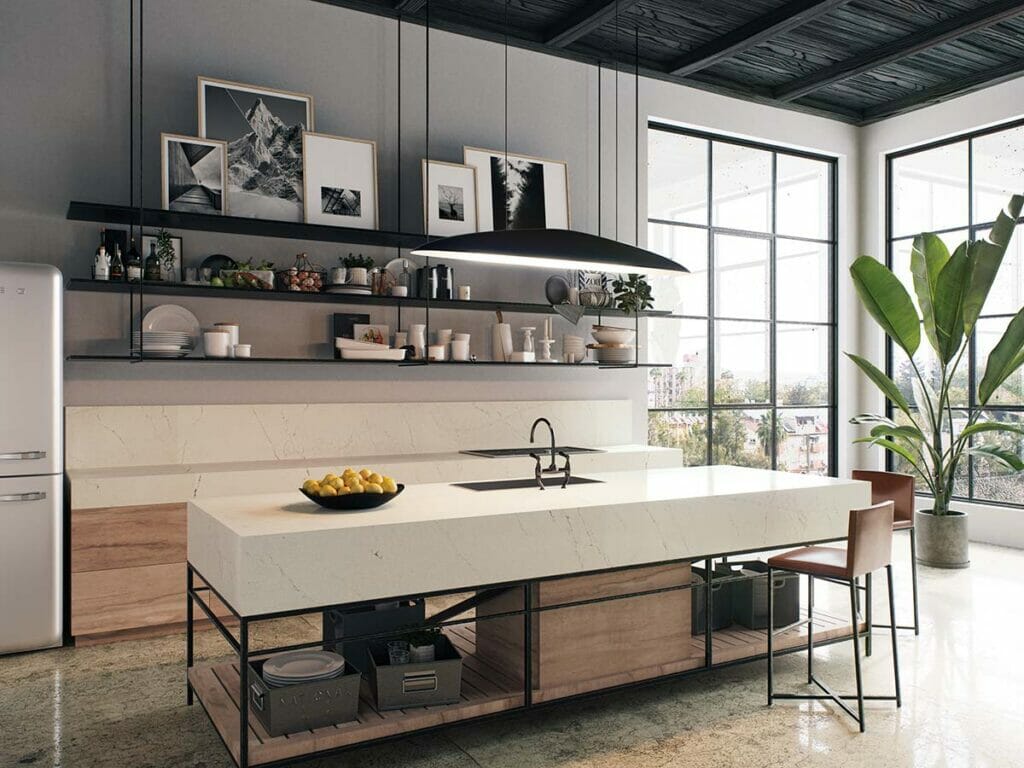 General Maintenance Tips for Quartz Countertops
To ensure that an installed quartz countertop remains in good condition, it's important to be aware of how to perform proper maintenance. There are several dos and don'ts when it comes to keeping quartz countertops in good condition and avoiding stains and damage.
Things to Do
Use a trivet/mat under hot pots/pans to maintain the sheen of the countertop
When cutting or chopping produce, use a cutting board. This will help avoid scratches, and will preserve the sharpness of knives and other implements
Regularly clean countertops and wipe up spills right away
Instead of standing on the countertop, use a ladder or step stool to reach something in the higher cabinets
Things to Avoid
While it's true that quartz countertops are resilient, they can only withstand heat for brief periods of time. For this reason, it is advised that homeowners use a trivet when dealing with high-temperature kitchen appliances and hot cookware. Prolonged exposure to heat can result in permanent damage or discoloration of the quartz countertops.
Don't use strong chemicals/solvents on quartz countertops and keep away items like bleach, paint strippers, permanent markers, ink, and oil soaps, as they can all cause significant damage to the quartz. If you're counter does come into brief contact with one of these products, it is advised that the area be rinsed with water as soon as possible.
If not using outdoor quartz, keep quartz out of direct sunlight, as this can cause the luster to eventually faint.
Don't apply sealants or water repellents to quartz countertops as they aren't necessary in regular maintenance.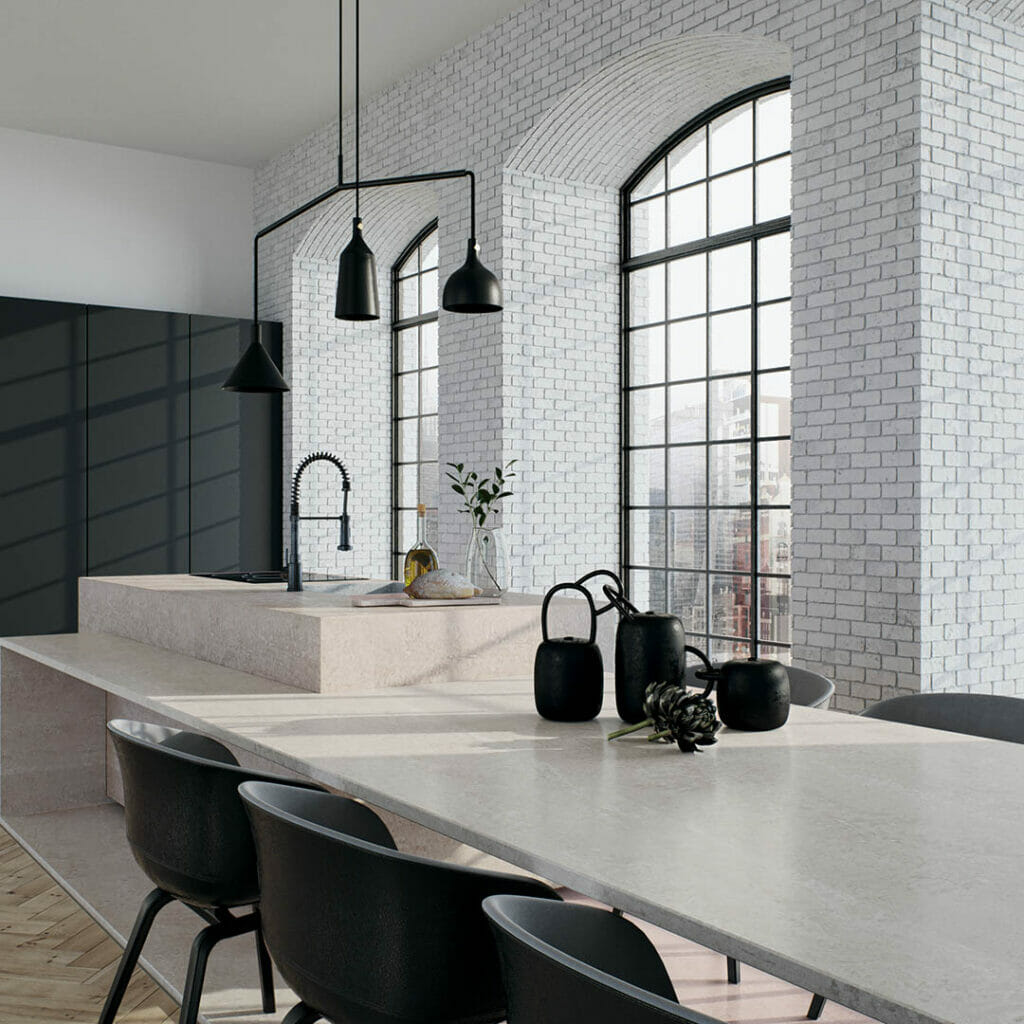 Bottom Line
The bottom line is quartz is a beautiful option for kitchen countertops, whether for residential or commercial use. Although it is stain-resistant, it is not stain-proof, and to successfully learn how to remove water stains from quartz countertops requires elbow grease and the right products for the job. Because these water stains can decrease the attractiveness of quartz countertops, prevention is usually easier than searching for a cure.