Back to Main Blog Page
Reading:
Philippe Malouin's Caesarstone Swing Set visits Art Basel, Miami Beach December 2-6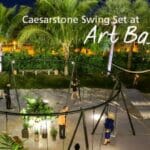 Art Basel 2015, Miami Beach
Caesarstone is excited to announce participation in Architectural Digest and 1 Hotel South Beach's "Refuge" exhibition featuring five outdoor installations commissioned for the occasion of Art Basel Miami Beach 2015. Architectural Digest Art at 1 Hotel will feature original works by Philippe Malouin, Hilary Harnischfeger, Robert Lazzarini, Michele Oka Doner and Carlos Rolón/Dzine, curated by Camille Obering.
We commissioned Philippe Malouin, a Canadian designer and artist who examines the unexpected use of materials in everyday life, to study Caesarstone in process-based design. Movements, which incorporates a 12-piece swing set, is an interactive installation juxtaposing the natural, organic beach scenery with the minimalist, monolithic language investigated by the designer. Because of its circular arrangement, each swing faces another to encourage an interaction that is at once individual and communal. At the center of Movements, a forest-like cluster of planters document Malouin's process of experimentation with Caesarstone, a material originating from sand. He explores a very different range of techniques, such as hand-sculpting, traditional inlay and marquetry, as well as the material's versatility and color.
"Architectural Digest celebrates the importance of art and design and we are proud to support artists by commissioning pieces visitors can enjoy throughout Art Basel Miami Beach," noted Giulio Capua, Vice President and Chief Revenue Officer of Architectural Digest. "Many of our participating partners have a rich history of collaborating with artists, which made this project achievable and even more gratifying."
The exhibit is open to the public December 2-6, 2015. Come by and take a look at the gorgeous works of art at the incredible 1 Hotel South Beach.
And follow #refugeatbasel to get all the real-time updates!