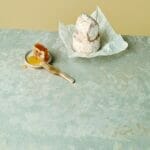 The creative community of architects and designers continues to see the inherent beauty in raw materials that were once considered stark and harsh. Design enthusiasts are enthralled with this robust movement where oxidized steel, rusted metals, fresh concrete, exposed pipes, and other sturdy materials become part of our homes, restaurants and office buildings. As these industrial elements continue to mature, they take on a more natural state and reach a more sophisticated audience.
Introducing Primordia. A new Caesarstone design that combines the look of natural and industrial elements. Primordia's cool grey complexion echoes the character of concrete, evoking the provenance of its contemporary feel. Composed across its light grey base, soft mineral accents in off-whites and greys combine with darker veils of grey and brown to reflect the oxidized rusts found in natural stone. This authentic effect is fulfilled by the fleeting traces of faint yellow and washed green that add more body to the multifaceted surface.
Primordia's organic appearance reflects topological strata: alluvial layers built up over geologic epochs. The material combines these natural aspects with a rough finish, celebrating the beauty of patina and texture.
Welcome to the Metropolitan Collection
This new Caesarstone design joins other highly dimensional surfaces and unpolished colors that bring texture to the surface in the Metropolitan Collection, where colors are inspired by factories and lofts and are translated into residential and commercial interiors.
Primordia is also one of the feature colors in our new Into the Light palette.
Into the Light
One of the main attractions at WantedDesign during NYCxDesign 2019 was The Caesarstone Bar, a sixteen-foot-long installation constructed of our newest color, Primordia, elegantly demonstrating this nature-inspired design. Visitors engaged with additional designs in the palette including the inherently elegant Empira White, part of the marble-inspired Supernatural Collection; Topus Concrete, Frozen Terra and Airy Concrete from the Metropolitan Collection; and Flannel Grey from the Classico Collection—all part of the Into the Light palette we are featuring for spring/summer.
"We're so thrilled to showcase our 'Into the Light' pallet at WantedDesign," said Elizabeth Margles, VP of Marketing Caesarstone North America. "The show is such a hub of creativity and inspiration, it's a natural place for us to debut our newest design, Primordia, in a dramatic setting for design professionals and enthusiasts from around the world."
Learn more about WantedDesign and the celebration of global design here.
Primordia Pairings
Primordia's surface details evoke the emotion of real stone, suited for kitchen countertops, island tops, backsplashes and cabinet cladding, as well as bathroom interiors. Its neutral palette is versatile, blending with other materials such as concrete and dark oak flooring. In lofty spaces, the surface is complemented by heavier elements such as corrugated steel, compressed grey felt, or industrial hardware in brushed or stainless metal. Raw terracotta tile adds an organic accent, while brighter shots of color reveal surprising contrasts. These glowing tones, such as glazed ceramics in mustard yellow or dark jade, also dress the countertop, cultivating a sense of warmth. Visit 'Stay Beautifully Current with the Season's Hottest Trends' for more design ideas.
Like all Caesarstone quartz surfaces, Primordia is the ultimate combination of nature and technology: premium, high-quality quartz that is nonporous, durable, flexible, scratch and stain resistant, mold and mildew resistant, and lower maintenance than other surface materials, and can be used in any type of installation, including interior locations that get wet, like bathroom vanities, showers, butler pantries and bars.
Visit our handy online Visualizer to see first-hand your favorite designs in full slab views and in kitchen, bathroom and office settings.